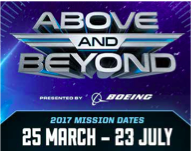 Visit Questacon and join the epic journey into the sky and beyond! Above and Beyond is the ultimate interactive and multisensory flight exhibition celebrating the power of innovation to make dreams take flight. From flying cars and supersonic planes to space elevators and mega-rock- ets, Above and Beyond takes you faster, further and higher for a once-in-a-lifetime experience.
Design and test-fly your own supersonic jet. Pilot a drone into the eye of a hurricane to measure nature's fury. Spread your wings and experience flight as a bird or a futuristic wing-flapping aircraft. Or take an elevator ride to the edge of space.
Packed with fun interactive challenges, vehicle concept models and prototypes, immersive media presentations, and inspir- ing stories, this thrilling exhibition invites you to experience what it takes to make the 'impossible' possible. Presented by Boeing in collaboration with NASA, Above and Beyond makes one thing very clear; the sky was never the limit.
Discussions on local tourism: The Forbes Business Chamber met with Forbes Shire Council to discuss the tour- ism opportunities for Forbes and surrounds. The Business Chamber is keen to support, develop and promote events to bring more visitors to the region. Council's Penelope McGufficke will attend the AGM of the Forbes Business Chamber on the 13 July 2017 to share details of developments. The Annual General Meeting of the Forbes Business Chamber is being held upstairs at the Forbes Inn.
#Montefamous Review
Future Creature Vol 2
Vol 2 is Future Creature's second EP. The duo of Matt and Eliana have blended Rock, Electronic and Pop genres, to create a wonderfully mastered EP that explores themes of life, loss, relationships and so- cial isolation.
Driving rock beats and powerful guitar riffs are interspliced with a strong electron- ic polish that, along with pop vocals, give Vol 2 a unique quality that will have you hit- ting the repeat button.
Each time you listen to Vol 2 you will find a new level of stunning complexity and beauty. It is a perfect reflection of what the blending of genres can create. I highly recommend Future Creature's Vol 2.