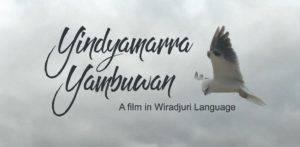 NAIDOC Week Film Screening – As part of NAIDOC week, which runs from 2-9 July, Lachlan Reconciliation group will show the film "Yindyamarra Yambuwan" (respect is everything) to local audiences in Parkes and Forbes, and launch a book of the film. This year's NAIDOC theme is "Our Languages Matter", so it is apt that the 15 minute film is in Wiradjuri language, with English subtitles. The film includes intro- ductions from members of the Wiradjuri Council of Elders, Dr Uncle Stan Grant Senior and his sister Aunty Flo Grant.
Parkes Shire Council will offer multiple screenings at the Coventry room in the Council building on Saturday 1 July, between 12noon and 4pm. The Forbes Aboriginal & Community Working Party will host a single screening at Forbes Ser- vices Club on Saturday 8 July. Gawaym- banha biyambul (welcome all).
Leave The Gun – Pick Up A Boscar! Yes, we can now reveal that the spectacular theme for the 2017 BOSCARS Forbes Business Awards is The Godfather.
The Godfather story spans 1945 to 1955 and chronicles the life and times of a fictional New York Italian crime family. It tells the Mafia story from the inside, revealing its secrets, charms, and loyalties to questionable causes.
For the women wearing beaded dresses and gorgeous jewellery, and the gangsters in their dark double-breasted suits, tilt hats, and dark glasses, there is one commandment, "Don't ever take sides against the family." See you at the Forbes Services Club on 15 September.
Red Nose Day – Celebrating its 29th year today, Red Nose Day is fundamental in highlighting the devastating fact that each year in Australia over 3,200 babies and children die suddenly and unexpectedly – with causes including stillbirth, SIDS and fatal sleep accidents.
Since Red Nose's inception, over $16.7 million has been devoted to researching stillbirth, neonatal death, Sudden Infant Death Syndrome (SIDS), and other causes that contribute to the 3,200 unexpected in- fant deaths that devastate Australian fami- lies each year.
Red Nose relies on public support of Red Nose Day to help fund its life-saving research projects as well as education and bereavement support programs. You can get involved today by buying a red nose or other Red Nose Day product, or making a donation.
Visit www.rednoseday.com.au to learn more.