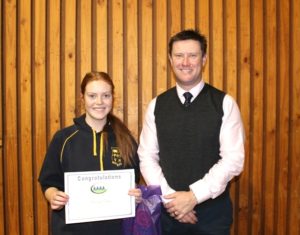 New Logo: The Forbes Domestic Violence committee recently updated its name to Forbes Domestic & Family Violence Committee (FDFVC) to coincide with the launch of a brand new logo designed by Forbes High School student Britney Dukes. She won the competition ran as part of the Industrial Technology Multimedia course for graphic design.
FDFVC, a not-for-profit group, relies heavily on donations from local businesses to organise the annual White Ribbon Day March on 25th November, and coordinate the Love Bites program for 14 to 18 year olds. FDFVC is open to anyone and welcomes new members. Meetings are held on the second Wednesday of the month at 9.30am at Yoorana, 40-70 Church street. Contact Renee Ellison on 6850 1234 or find Forbes Domestic & Family Violence Committee on Facebook.
Outstanding Result: Forbes High School is a registered Positive Behaviour Learning (PBL) school. PBL is embedded within the school's everyday practice of learning, teaching and leading. Forbes High School held a PBL Reload training day for teachers and staff recently attended by Tullamore Central School, Condobolin High School and Forbes Public School, and delivered by assistant principal PBL Michelle Ashworth. And it seems that it's working! With an outstanding result of 241 students being eligible for the schools State of Origin excursion, positive behaviour learning is definitely making an impact.
Winter Festival: The Bathurst Winter Fes- tival runs from 1st to 16th July featuring an ice rink and a ferris wheel and two-storey carousel for the duration of the festival, and a Brew and Bite on Saturday 8th July with markets, entertainment, food, wine and beer and many more. Visit www.bathurstwinterfestival.com.au for more information.
#Montefamousreview: Tania Kernaghan All Australian Girl
Tania Kernaghan's latest album All Australian Girl is a great country romp. Beautifully produced and lovingly presented, Tania sings her tributes to the Australian out-back, her family and the Australian way of life. It is Tania's seventh album and it is an album that is positive, happy and uplifting and will make you feel good. I am not a big fan of the country genre, however this is one album I had no problems listening to on repeat. Tania's singing is effortless and seductive. It is the perfect album for any afternoon adventure.