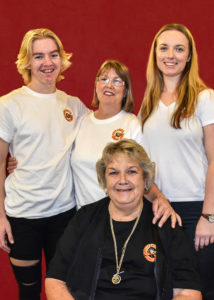 New Pound: Forbes Shire Council has resolved to move to the next stage of plan- ning for a new pound to be built in Angus Street at Landrace Estate. Director Environmental Services and Planning Paul Bennett said Council had been saving to build a new pound for the past five years.
"We have looked at a number of sites and with the Landrace Estate site been decided as the preferred option, we are in the process of developing the plans for the new pound." Paul said it would be built in the next 12 months. "As with all public facilities Council needs to plan to upgrade or replace infrastructure as it reaches the end of its usable lifespan. The new pound will provide modern facilities for the operator making it a safer and more user friendly facility.
Mock Crash: Auditions for amateur youth actors over 16 in Forbes will be held on Thursday, 11th May at the Parkes Shire Council Chambers for this year's mock crash demonstration. "Youth actors will take part in both filmed and live ab-lib exercises," said the Councils' Road Safety and Injury Prevention Officer, Melanie Suitor. Pre-registration for the auditions is essential. Contact Melanie on 6861 2364 or 0428 400 627 or Melanie.Suitor@parkes. nsw.gov.au.
Send us your news: The Forbes Phoenix is available in Trundle, Tullamore and Bogan Gate every Friday. You can pick up your free copy at the Trundle Newsagency, Casho's Café in Tullamore and the Railway Hotel in Bogan Gate. Let us know what is happening, send us your news and photos to editor@forbesphoenix.com.au
#Montefamousreview:
The Skill of Inspiration Through Music Fiona Kernaghan – The Art of Being The Art of Being is the latest album from Fiona Kernaghan. The album is filled with incredible lyrics and melodies. "The Art of Being" is a lyrical amalgam of ideas and philosophies that resonate with Fiona and will most certainly tell you a story with each track. A strong world flavour permeates throughout the album. Part pop, part coun- try, part folk, The Art of Being is a feel good album, uplifting your mood and will easily be a source of inspiration. It's the perfect album to have playing when you're in a creative mood