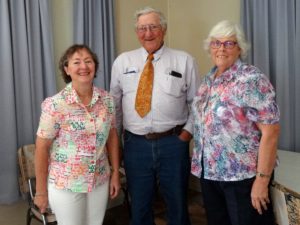 Learner drivers: A free workshop for parents and supervisors of local learner driv- ers will be held at Red Bend Catholic Col- lege in Forbes on Wednesday, 10th May at 6pm. The two-hour workshop, Helping Learner Drivers Become Safer Drivers, will offer parents and supervisors hands- on advice on how to provide the most ef- fective driving practice for learner drivers. Forbes Shire Council's Road Safety and Injury Prevention Officer, Melanie Suitor, will present the workshop.
"Parents and supervisors of learner driv- ers have a crucial role to play in making our roads safer," said Melanie. "The workshop covers topics such as the new licence con- ditions for learner and P-plate drivers, how to use the Learner Driver Logbook, the benefits of on-road driving sessions and tips on supervising a learner driver. "Par- ents and supervisors who have attended this workshop in the past have found that it boosted their confidence, helped them bet- ter plan driving sessions and allowed them to share their experiences with other par- ents and supervisors," Melanie said. Light refreshments will be available. Bookings are essential, call Melanie on 6861 2364.
Mock crash auditions: Auditions for amateur youth actors over 16 in the Forbes, Parkes and Lachlan Shire Council areas will be held on Thursday, 11th May at the Parkes Shire Council Chambers for this year's mock crash demonstration. The demonstration is the cornerstone of the NOT A STATISTIC! Youth Driver Education Program.
"The auditions will give participants an overview of all aspects of the project. Youth actors will take part in both filmed and live ab-lib exercises," said the Councils' Road Safety and Injury Prevention Officer, Mela- nie Suitor. Local actor Krystle-Lee McMur- ray, who has been involved in the project for the last few years said: "This project is such a great experience. It's a really in- teresting mix of acting in front of a cam- era as well as a live audience of over 500 year 10 students. The cast and crew are really friendly and professional. But most importantly we are trying to save lives – so even if we reach just one person – we have done our job." Pre-registration for the audi- tions is essential. Contact Melanie on ei- ther 6861 2364, 0428 400 627 or Melanie. Suitor@parkes.nsw.gov.au.