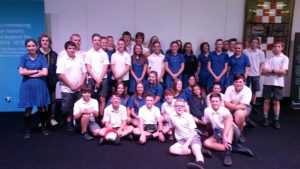 Spirit of the ANZAC: Year 9 students from Forbes High School travelled to Orange re- cently to see the Spirit of the ANZAC Cen- tenary Experience. The exhibition contains various interactive displays, which allowed students to take a self-guided tour through 12 different zones; each zone representing a different aspect of Australia's involve- ment in World War I. The students learned how and why Australia became involved in the war, they saw first hand experiences from young men and women involved in the war and the aftermath it had on Aus- tralia and the young people who fought to defend it.
Jemalong Residential Village Expansion: The expansion of Catholic Health- care's Jemalong Residential Village and its merger with Mater Aged Care has been officially approved. The development will bring together two of the longest serving aged care services in Forbes, adding new retirement living dwellings that are modern with integrated aged care services.
Construction will start mid-2017, at the existing Jemalong Residential Village lo- cation on Edwards Street for a state-of- the-art integrated aged care campus, 36 private rooms, a dementia specific space, chapel and a new retirement living village consisting of 20 units. There will also be modern health and wellness spaces, dining areas, an activities room and communal gathering spaces.
Stage one is scheduled to open in mid- 2018. Please call 1800 551 834 if you are interested in learning more.
Here's your chance to fly: Plummeting towards the ground at 180km an hour from 14,000 feet above. The Phoenix is sending a reporter to see what all the fuss is about. Skydiving is a popular bucket list item and there is a good reason why – the adrenaline rush of free falling is but one. Bucket loads of emotions enter while dangling from a plane and then falling towards earth: excitement, fear, adrenaline, more fear, excitement, awe, gratitude, exhilaration and pure amazement!
Adrenaline junkie or not, skydiving is a chance to overcome your fears and feel free. Places still available this weekend to Skydive in Dubbo with Skydive Oz. www. skydiveoz.com.au/skydive-dubbo/
Forbes Phoenix Sales: Our Reporter Dianne Collie is now also doing sales in Forbes. Please contact her on 0414 643 250 or on reporter@forbesphoenix.com.au for a quote, to discuss options or any other information you would need to advertise in The Forbes Phoenix.