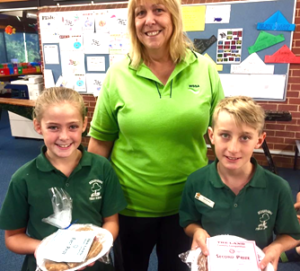 Bizkeys: The Police respond to crimes at all times. Sometimes businesses are subjected to crimes when they are closed. The NSW Police Force maintains a confidential and secure database, called Bizkeys, where business owners supply a list of key holders with contact details. It is an important and very useful tool if say for example, a window of a business premises is broken at night, the police can ring so the business can be secured again. Business owners are encouraged to contact the Crime Prevention Officer for the Lachlan Local Area Command, Senior Constable Daniel Greef, on 6862 9936 or gree1dan@police.nsw.gov.au for a business keyholder form.
Skywriters: Writers and aspiring writers are invited to join the Big Skies Collaboration Skywriters project to author stories, in any genre, about their own or other people's relationships with celestial phenomena in our southern sky. Skywriters Hub will be launched at the Forbes Library on Thursday, 6th April at 1pm. The Skywriters Project is led by Forbes-based author and scholar Dr Merrill Findlay. Participation is free, and anyone with an interest in writing or storytelling is invited to take part. Sign up at the Forbes Library or at bigskiescollaboration.wordpress.com/projects/skywriters/
Forbes Business Chamber: At the March monthly meeting, Sally Duff represented the Forbes Shire Council to work on strengthening a productive relationship between the chamber and council. The first social media workshop was very successful and well attended, while some fantastic social media ideas are coming through from the youngest committee member Stevie-Leigh Morrison including a business of
the week and regular Instagram post.
Poultry auction: Sam Mackay's auction last Sunday attracted a huge crowd with 1,058 head of poultry and 128 registered buyers! Not bad for a 15-year-old!
#MONTEfamousreview: Bel – Melancholia, Twenty one year old Melbourne musician Bel, has released a beautiful dark electro pop EP named Melancholia. Written with the premise: There is a beauty in sadness and what would happen if we embraced darkness similarly to how we embrace the light? Building on this idea Bel used her lyrical writing skills and talent for creating beautiful melodies to produce an
EP that will sweep you into a new world of emotion and thought. It is a stunning example of the dark electro pop genre.