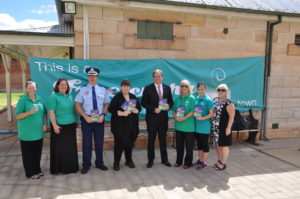 Free Cuppa: The seventh phase of the multi-award winning Free Cuppa for the Driver scheme was recently launched in Dubbo and will run until Wednesday, 31st May. Fatigue is one of the biggest killers on NSW roads – contributing to 72 fatal crashes over the last 12 months. The Free Cuppa scheme allows drivers, who have travelled more than 100km from the address on their driver's licence, to qualify for a free cup of tea or coffee. More than 5,700 free cuppas have been given away from 185 participating businesses in 161 cities, towns and villages since its inception in 2010. The scheme is expanding to include seven more council areas. Drivers can use the Free Cuppa for the Driver app
to find participating businesses.
Spoons + linen: It's time to open the linen press and cutlery drawer and pull out any of your pre-loved and unwanted spoons (soup and dessert) and linen (napkins, table cloths and sheets), and please drop them at the Platypus Gallery in Forbes at 15 – 21 Templar Street for the Grazing Down The Lachlan event. Bush Telegraph: Keep the wheels rolling – free community information night on Tuesday, 21st March at the Tullamore Bolwing Club and Wednesday, 22nd March at Tottenham Bowling Club with barbeque dinner at 6:30pm followed by two speakers: Fran Rowe, rural financial counsellor – funding following disasters; and Steve Matthews from Riverina Bluebells – taking care of
yourself and what to look out for with family and friends. RSVP Helen or Sally on 6892 5003 (Tullamore) and Heather Jones on 6892 403 (Tottenham).
#MONTEfamousreview: Natalie Pearson – Long Time Coming 2016 Music OZ Independent country artist Natalie Pearson's new EP Long Time Coming is a pop country EP that takes you on a journey through the different stages of a relationship. From the first spark to
the eventual break up, while maintaining a positive message of hope and moving on. In a genre that is very crowded, Natalie Pearson's emotive vibrant voice manages to give the pop-country scene a breath of fresh air. It is filled with upbeat tracks even when the subject of the song is sadder. If you enjoy pop-country or looking to explore the genre, it is the perfect album for you.