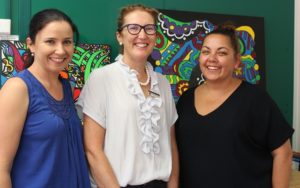 Wellness Hub: Forbes High School (FHS) is leading the way to support student well- being. The school will officially open its Wellness Hub on Wednesday and invites the community to come and find out more about this unique facility between 12 and 1pm. The Wellness Hub is a partnership between Forbes High School and local community services to support students and families' wellbeing.
Clean Up Australia Day: Forbes Shire Council is encouraging residents to take part on Sunday, 5th March by registering on the day from 8:30am at Victoria Park with the clean up to start at 9am. Various locations across the Shire will be cleaned. Volunteers will be provided with gloves, rubbish bags, sunscreen and water. After the clean up at midday, a free sausage sizzle will be held at Apex Park. For more information about Clean Up Australia Day visit www.cleanupaustraliaday.org.au or contact Council's Environmental Services and Planning Department on 6850 2344.
Forbes Business Chamber: The Cham- ber's Boscars Business awards this year will be on Friday, 15th September with a gala evening at the Forbes Services Club. John Davis Motors, winner of the business of the year at the 2016 Boscars, will be presenting at the next Business Chamber Networking night – invites will be sent out in April.
The Forbes Chamber was awarded funding under the Energise Enterprise Scheme late last year, and as a result will be running five workshops in the upcoming months on websites for businesses, social media, email marketing, Microsoft outlook training and high speed internet. More information will be available soon.
Footy Tipping Competition: With NRL season almost upon us, The Forbes Phoe- nix has two spots left in our Footy Tipping Competition. Whether you are one of our readers or an advertiser, you can join in the fun and be in the running to win a major prize. Entry is $100 for the whole 26 weeks and you will receive an ad space in the Phoenix to the value of $150 to promote yourself, your charity or your business. Contact sales@forbesphoenix.com.au to secure your spot.
You Get Shaving, Australia!: Are you shaving your head, or do you know of someone doing it this March, 16 – 19th to help beat blood cancer for the World's Greatest Shave? We would love to hear from you! Contact us.