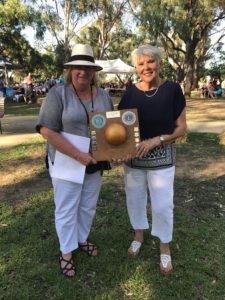 Robyn Miller (left), member of the Forbes Evening Branch of the CWA, and Margaret Adams, Member of the Forbes CWA with the "amazing" Challenge Trophy. Robyn won the CWA/Lions Damper Challenge and Margaret came third.
Damper Competition: It was hot on Australia Day, but when the dampers arrived from 4pm onwards at Frogs Hollow in all shapes, sizes, colours and types, the pleasantries started. The open section was won by CWA Evening Branch member Robyn Miller. Second place went to Jenny McNulty, a visitor from Northern NSW and third place to Margaret Adams of the CWA. Highly commended was awarded to Alison Lockhart of Forbes. CWA also won the coveted trophy CWA vs Lions Club Challenge trophy with CWA members Robyn Miller first, Catriona Hunt second and Margaret Adams third.
Phoenix spreads its wings: From today The Forbes Phoenix will be available in Trundle, Tullamore and Tottenham every Friday. You can pick up your free copy at the Trundle Newsagency, Casho's Café in Tullamore and Tottenham Post Office and Foodworks.
Bedgerabong Races postponed: The event had to be postponed to Saturday, 29th April due to extreme temperatures forecast for tomorrow. All entries for the competition in The Forbes Phoenix will be kept for the new date.
Bunnings fundraiser: Over half a million dollars has been raised through the annual Aussie Day Weekend Fundraiser BBQ. Held on Saturday, 28th January at every Bunnings store nationally, NSW residents helped raise over $136,000, with all funds going directly to NSW Rural Fire Service, and NSW State Emergency Service. Over 2,200 team members and local volunteers ran more than 270 BBQ's all over Australia.
Finding it hard to get to the Library? The Housebound Library Service, offered by volunteers from Neighbourhood Central, is a free service for Forbes Library members who are no longer able to visit the Library in person due to infirmity, physical or sen- sory impairment or extended illness.
In consultation with the client, Library staff selects appropriate library items, and volunteers deliver books, large print books, audio books, magazines and DVDs to pri- vate homes and residential aged care fa- cilities. The volunteers also pick up and return items to the Library, and most im- portantly, engage in conversation with the client and provide regular social support.
If anyone would like to access the service, call Monica on 6851 4550 or drop into Neighbourhood Central at the HACC Centre, 7 Harold Street Forbes, or contact the Forbes Library on.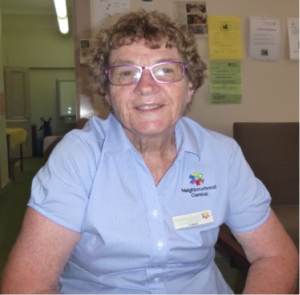 Doreen Amor is the longest serving Housebound Library volunteer at Neighbourhood Central.