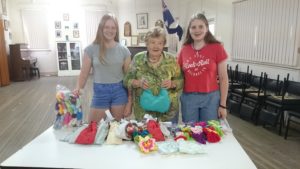 Christmas Message from the Phoenix Publisher – Chery Newsom: I would like to extend a very big thank you to all our readers, contributors, advertisers, contractors and the team at the Phoenix Group of Newspapers for making 2016 such a successful one. Despite the changes in the media landscape, we decided to launch two new free local newspapers in Parkes and Hilltops (Young) in March this year. With this came the normal challenges and without the support of all those mentioned we would not have been able to accomplish what we did. Next year will be even bigger and better with the launch of some new features, an app, and new projects. We would ask that you continue to support us, as we strive for excellence and being involved at a local level in these communities. Remember that we are your local voice in the communities we serve. We wish everybody a very Merry Christmas and best wishes for a successful 2017.
Community transport: Neighbourhood Central Forbes, operating from the HACC Centre at 7 Harold Street, provides subsidised community transport for eligible clients and carers of the Commonwealth Home Support Programme, as well as disadvantaged people to help them live in their own home and still access activities and appointments. Transport is provided for medical appointments, hospital stays and medically related treatment in Parkes, Forbes, Bathurst, Dubbo, Orange and Sydney. Transport can also be provided for shopping
and social visits, while regular social trips are organised in partnership with other services at Neighbourhood Central to events such as the movies in Orange and Manildra, theatre shows and places of interest in the district. A wonderful team of volunteer drivers devote their spare time to transport clients. There are also driver support volunteers who assist the drivers in caring for clients. To book a place call Monica Wren at the Neighbourhood Central office on 6851 4550. Office hours are between 10am and 3pm Monday to Wednesday and between 11am and 2pm on Friday.