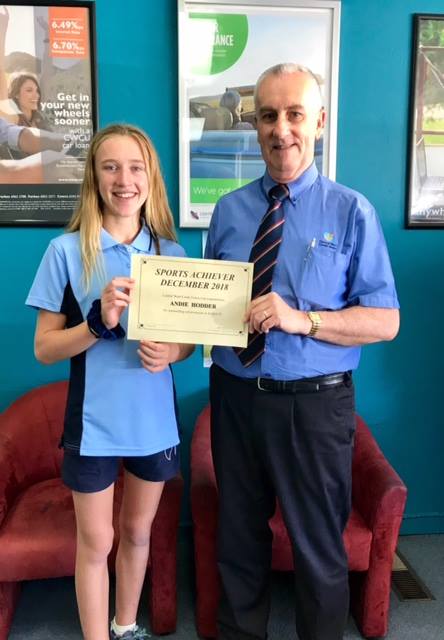 NOT WITHOUT A FIGHT… Andie Hodder was the December recipient of the Central West Credit Union Sports Achiever Award. Andie competed and placed first in the Full Contact Division 12 & 13 Years at the International Karate Association National Championships at the Australian Institute of Sport Combat Centre in Canberra. This is the third winning title she has achieved at this particular national championship. Andie received her award from Bruce Facey at the Forbes CWCU.
Next Generation $20 Banknote Design Reveal: The Reserve Bank revealed last week, the design of the new $20 banknote, which will be released into general circulation in October 2019. As with the existing banknote, the new $20 features portraits of Mary Reibey and Reverend John Flynn. Governor Philip Lowe said of the new banknote: "Improved security and ease of recognition are important characteristics of the new $20 banknote. The same innovative security features from the previously released $5, $10 and $50 banknotes have been incorporated to help keep them secure from counterfeiting." These features include a top-to-bottom clear window that contains dynamic elements, including a flying kookaburra that moves its wings and changes colour, and a reversing number '20'. The $20 features Acacia buxifolia and a Laughing Kookaburra (Dacelo novaeguineae). The new banknotes also has a 'tactile' feature to help people who are blind or who have low vision to distinguish between different denominations of banknotes. On the $20 banknote, this is three raised bumps on each of the long edges of the banknote.
A billion reasons to celebrate: Return and Earn has given NSW a great first year birthday present – one billion containers were returned through the scheme by December 2018. The NSW Minister for the Environment, Gabrielle Upton said she was pleased to see the program achieving these huge milestones. Gabrielle said that Return and Earn has been an outstanding success and changed the way people dispose of empty drink containers. More than half the drink containers brought into the marketplace by beverage suppliers (54 percent) are now being recovered, compared with the 32 percent that was being collected through yellow bins before Return and Earn kicked in. Minister Upton said the figures for Return and Earn's first year speak for themselves. To learn more visit https://returnandearn.org.au.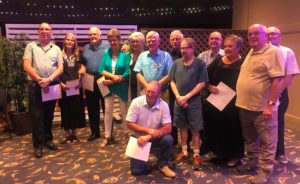 Celebrating A Decade: The Forbes and District Lions celebrated their 10th birthday. Lions members, Peter Perry and Anne Jones from Guerie, presented chevrons and commendations to 17 Lions who have been members for more than 10 years. To make the night more special, Aidan Clarke was inducted as a new member into the Lions organisation.