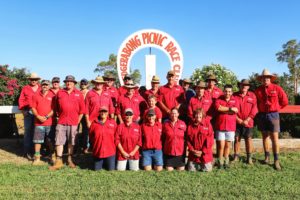 Celebrating a Century: The Bedgerabong Picnic Race Club Committee celebrated the 100th anniversary of the Bedgerabong Picnic Race Club Cup last Saturday.
Huge Boost To Support Student Welfare And Mental Health: Every public high school across the Orange Electorate will have two dedicated experts to ensure students have access to vital mental health and wellbeing support. Nationals Candidate for Orange, Kate Hazelton said an $88 million statewide investment by the NSW Nationals will mean that every public high school student in the Orange Electorate will have access to highly-qualified mental health professionals that they can confidentially speak to about bullying, anxiety, stress or any other difficult issue they may face. Up to 100 additional fulltime school counsellors or psychologists, as well as 350 student support officers, will be employed across NSW public high schools. Importantly, these experts will have the ability to refer students who require greater assistance to mental health services. Deputy Premier and Minister for Regional NSW, John Barilaro said the investment would provide vital support for communities in regional NSW.
Forbes Paves the Way Forward For Agriculture: Forbes Shire Council identified in 2017 the need for a strategy to manage how the Shire moves forward in the agricultural sector. GHD Consultants were commissioned to facilitate an Agricultural Strategy with the aim of driving continued growth across primary industries in the Forbes local government area and unlocking new market and growth opportunities. "The strategy is multi-faceted in its approach; considering land-use planning, land capability and water availability," said Forbes Mayor, Phyllis Miller. Online surveys, targeted interviews and two community consultation workshops took place with the public to develop this strategy. A reference group worked closely with Council and GHD to formulate this document. On the 25th February, Forbes Shire Council along with Deputy Prime Minister, Michael McCormack and NSW Minister for Primary Industries, Niall Blair will launch the strategy at the Forbes Central West Livestock Exchange.
Youth Week Award Nominations Now Open: Young people play a vital role in making Forbes the vibrant and strong community that it is. Every year as part of Youth Week, Forbes Shire Council celebrates their achievements, contributions and hard work in our society. Nominations open on the 1st March. There are three awards categories; Youth Citizenship Award, Sports Volunteer Award and Brighter Future Award. The awards are open to all young people between the ages of 12 and 24 who live, work or study in the Forbes Shire area. Nomination forms can be found on the website www.forbes.nsw.gov.au/youthweeknominations.