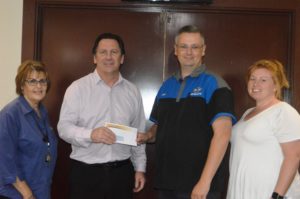 AWARDS SUPPORT… Rayleen Paradowski and Forbes Services Memorial Club General Manager, David Fitzgerald presented a cheque to the Boscars Committee Chairman, Michael Jelbart and Elle Barry. The RSL is a Gold Sponsor for the Boscars business awards.
Latest Competition: Don't forget to enter our latest competition and you could be off to the Bedgerabong Picnic Races. Complete and return the entry form on Page 9 or enter online via our website www.forbesphoenix. com.au for your chance to win a double pass to the Bedgerabong Picnic Races, including a race booklet. Entries close Wednesday, 13th February at 2pm.
Lions Club Car Boot Sale: The Lions Club quarterly Car Boot Sale will be held on the 16th February at the Lions Park from 8am to 1pm. People are welcome to set up tents and tables retailing second hand goods, fresh produce, craft items and handmade goods. Sites cost $10. Site fees from this sale will be donated towards the Northside Chapel FACE group. For further information contact 0468 819 659.
Aboriginal Disability Services: Parliamentary Secretary for Western NSW Rick Colless announced grant funding of $158,000 to Orange Local Aboriginal Land Council to help them deliver services to Aboriginal people with disability under the National Disability Insurance Scheme (NDIS) in the Orange region. "The grant funding will allow them to establish a Support Coordination Service for Aboriginal people with disability that is accessible and delivered by local Aboriginal people." With the funding they will be able to accommodate 40 Aboriginal NDIS participants and deliver an additional 600 hours of service per month.
Come and try an instrument: Would you like to try to learn a musical instrument? 'Come and try' days will be conducted during Term 1 at the Forbes Town Band Hall at 165 Rankin Street (opposite Bernardi's). Learn to play flute, clarinet, trumpet, saxophone, trombone, tuba, xylophone or drums. The 'Come and try' dates are on Monday, 11th and 18th February from 6pm to 7pm. Parents are welcome to stay with their children and may wish to learn along with their children and join the band as well. Suggested age for a student to start band is 10 years. Adults are also very welcome to join learner's band. You are never too old to learn! Community members that can already play an instrument are most welcome to come along and join the band at 7pm any school term Monday.
To do further bank stabilization work, the ski dam work continued this week at the Forbes Aquatic Park. All work is said to be completed today.