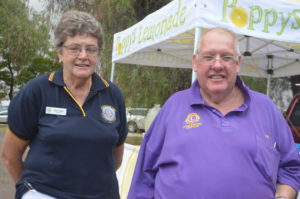 COOK-OFF… Neil Lambert was presented with the Best Damper Champion title and trophy by Elaine Bright. This was for the CWA versus Lions Damper Competition held at the Australia Day celebrations in Lions Park on Saturday to celebrate the traditional Australian bread.
Giving Blood Feels Good: The mobile blood service will be visiting Forbes in Harold Street behind the Cenotaph in Victoria Park on the 4th, 5th and 6th of February from 9:45am to 2:45pm. To make an appointment call 13 14 95 or visit donateblood.com.au. Please bring photo ID with you. Have 3 or 4 glasses of water or juice in the hours before you donate and have a good sized breakfast or lunch.
The bell has rung and it's back to school: As young people have returned to school, National Youth Mental Health Foundation, headspace, reminds young people and their families that this time can be emotionally turbulent. Young people can feel a range of emotions when they're back at school, which include feelings of excitement, anticipation and nerves. Some students can adjust to the changes and settle into things quickly. However, some young people may find this a daunting and challenging time. Vikki Ryall, Executive Director of Clinical Practice at headspace, said that the anticipation of trying to make new friends, pressure to get the best marks and dealing with difficulties like bullying are some reasons young people may feel uncertain at this time. "Parents can tell when something is out of the ordinary, so it's good if you can check in regularly with your young person to see how they're feeling and to endorse the positives of going back to school," she said.
Come and try an instrument: Would you like to try to learn a musical instrument? 'Come and try' days will be conducted during Term 1 at the Forbes Town Band Hall at 165 Rankin Street (opposite Bernardi's). Learn to play flute, clarinet, trumpet, saxophone, trombone, tuba, xylophone or drums. The 'Come and try' dates are on Monday, 11th and 18th February from 6pm to 7pm. Parents are welcome to stay with their children and may wish to learn along with their children and join the band as well. Suggested age for a student to start band is 10 years. Adults are also very welcome to join the learner's band. You are never too old to learn! Community members that can already play an instrument are most welcome to come along and join the band at 7pm any school term Monday.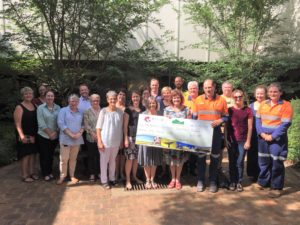 Northparkes Community Investment Program announced the latest recipients of $40,000 for the second round of 2018. The successful applicants were: Adavale Lane Community Hall, Bogan Gate Public School, Currajong Disability Services Ltd, Forbes District Soccer Club, Forbes Veteran Golfers, Friends of Parkes Hospital, Parkes Community & Allied Health Service, Parkes Community Choir, Parkes High School, Parkes Touch Association, PCYC Parkes, Peak Hill Domestic Violence Committee, Relay for Life Parkes & Districts, St George's Toy Library, Tottenham Late Notes, Trundle Central, Tullamore Bowling & Citizens Club, and Tullamore PA&H Association Inc. The next round of funding will close on 30th April. Contact Ali Standen on 6861 3621.