Giving Blood Feels Good: The mobile blood service will be visiting Forbes in Harold Street behind the Cenotaph in Victoria Park on the 4th, 5th and 6th of February from 9:45am to 2:45pm. To make an appointment call 13 14 95 or visit donateblood.com.au. Please bring photo ID with you. Have three or four glasses of water or juice in the hours before you donate and have a good sized breakfast or lunch.
Catch of the Week winner: Thank you for sending in your great fishing pics and please keep it coming! Scott Barrass was our December winner. Please claim your $25 voucher prize from Loomzy's Fish 'n' Fix in Forbes.
Four Days Of Double Demerit Points:
As we get ready to celebrate Australia Day and school holidays are coming to an end, drivers are being reminded that double demerit points will be in force from Friday, 25th January to Monday, 28th January (inclusive) for all speeding, seatbelt, motorcycle helmet and mobile phone offences.
Chief Inspector David Cooper from NSW Police is encouraging all road users to pay attention to road conditions and allow plenty of travel time. "The road toll over the Christmas/New Year period fell from 31 in 2017/2018 to seven this year – and whilst the message seems to be getting through, that's still seven families affected by the loss of a loved one.
Keep cool and hydrated to beat the heat: Temperatures have again risen this week with another heat wave forecast across the Western NSW Local Health District (WNSWLHD) lasting up to the weekend.
The WNSWLHD is reminding everyone to take precautions to beat the heat and take particular care against dehydration, with a number of people presenting to hospital over the last week suffering this heat-related illness.
It's Back to School Time: The new school year is set to resume for thousands of local students next week and Councils are reminding local drivers and parents about children's safety around schools. There are 40km/h school speed zones in existence around all schools in NSW. Most school zones are operational between 8am to 9:30am and 2:30pm to 4pm on school days, or when the lights are flashing. Road Safety around schools is everyone's responsibility.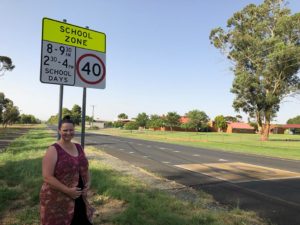 Parkes, Forbes and Lachlan Shire Councils' Road Safety and Injury Prevention Officer, Melanie Suitor is reminding everyone to keep to the school speed zones as students head back to their desks next week