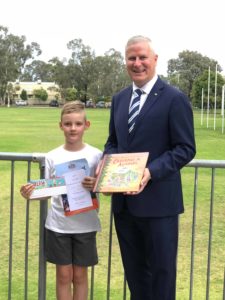 CREATIVE ARTS… Students from Forbes Public School received a certificate for participating in the Riverina and Central West Christmas Artwork Competition from Deputy Prime Minister, Michael McCormack last Thursday. The second place winner of the competition was Alfie Quirk. Congratulations Alfie!
Obstacool coming to Forbes: Forbes Shire Council is bringing Australia's biggest inflatable obstacle course designed for children big and small to Nelson Park. Free access for children will be available between 9am and 3pm on 22nd December. Each session lasts 45 minutes and commences on the hour. Children must be checked in by a parent or guardian and supervised during the time that they are in the course. Participation is open to any age above four.
CatholicCare Wilcannia-Forbes Art Competition: CatholicCare Wilcannia- Forbes is celebrating the artistic talent in our communities with its first Aboriginal Art Competition to be judged in January next year. "We want to showcase this talent by highlighting the art which captures the spirit of our region through this competition and subsequent exhibition," CatholicCare Wilcannia- Forbes CEO, Anne-Marie Mioche said. "There is no set subject for submitted artwork but we look forward to pieces which will celebrate our culture and heritage, encourage greater understanding, acceptance and inclusion," added Anne-Marie. Aboriginal artists aged 16 years and over, are encouraged to submit an artwork. Entries for the competition will close on 14th January at 5pm. The winning artist will receive $1,200, second place will be awarded $500 and $300 for third. Competition entry forms and terms and conditions are available by emailing agearen@ccwf.org.au or phoning 0404 125 840.
Pubs, Clubs And Bottle Shops Encourage Plan B: Determined to do their bit to reduce drink driving across the Parkes, Forbes and Lachlan Shire Council areas, 57 pubs, clubs and bottle shops have joined forces to promote the Plan B campaign. Plan B is a state-wide initiative encouraging patrons to think about an alternative to driving home after a night out. During December, patrons at participating pubs, clubs and bottle shops will be invited to enter a competition to nominate a Plan B for getting home. "Catch a cab, walk home or throw a swag out on a mate's floor – we don't mind what your Plan B is, so long as it's not driving home," said Parkes, Forbes and Lachlan Shire Councils' Road Safety and Injury Prevention Officer, Melanie Suitor. "Every entry puts patrons in the running to win a swag valued at $250. The competition will be drawn on New Year's Eve," said Melanie.