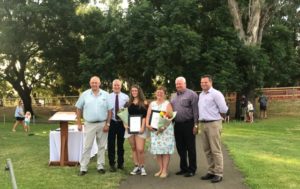 TIME TO NOMINATE… Council is asking for nominations for 2019 Forbes Shire Citizen of the Year and Young Citizen of the Year. To download the nomination form visit: http://www.forbes.nsw.gov.au/…/comm…/australiaday-2019.aspx. Attending Australia Day celebrations this year was Steve Loane (Council's General Manager), Michael McCormack (Riverina MP, Deputy Prime Minister), Kelsey Muller (2018 Young Citizen of the Year), Sue-anne Nixon (2018 Citizen of the Year), former mayor Graeme Miller and Philip Donato (Member for Orange).
Youth Survey reports mental health concerns is on the rise: Mission Australia have released its 2018 Youth Survey results which has revealed the rate of young people who are identifying mental health as a key national issue has doubled since 2016. Four in ten or 43% of young people identified mental health as the top issue facing Australia today. Sadly, the survey also highlights stress (43%), school or study problems (34%), and mental health (31%) as the top three personal issues of concern for young people this year. As well as addressing the top three barriers for young people trying to find work (school responsibilities (20%), lack of skills/experience (15%), and lack of jobs (12%), the survey also states close to one in 10 young people were less confident in their ability to achieve their work and study goals.
Australia Not On Track: A new United Nations (UN) report has found that Australia is not on track to meet its 2030 Paris cli mate target. "Without a credible climate policy, Australia is stuck in the barriers," said the Climate Council's acting CEO, Dr Martin Rice. Under the Paris Agreement, Australia promised to reduce its emissions by 26 to 28 percent by 2030. But today's UN report says our greenhouse gas pollution levels are projected to remain at high levels rather than reducing in line with the 2030 target. "The report tells us that global carbon emissions increased in 2017 after three years of stagnation. Australia is one of the worst climate offenders. Our pollution levels have risen for three years in a row," said Dr Rice. The goal of the Paris Agreement is to keep global temperature rise this century to well below two degrees above the level prior to mass industrialisation. "We need to phase out fossil fuels like coal and accelerate the transition to clean, low-cost renewable energy," said Dr Rice.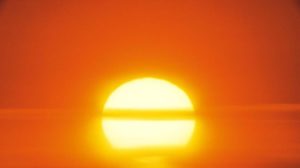 Summer Scorcher On The Cards: Australia looks set to experience another angry summer, with the Bureau of Meteorology's latest Outlook indicating the next three months are likely to be hotter than normal. The Outlook from the Bureau of Meteorology finds the chance of an El Niño forming is 70 percent, roughly triple the normal risk. An El Niño typically brings drier and warmer conditions to eastern Australia.