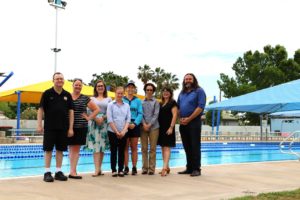 CELEBRATING TIME… Forbes Shire Council is getting ready to celebrate International Day of People with Disability at the Forbes Olympic Pool on Tuesday, 4th December from 10am to 3pm. The day will be filled with pool games, face painting, water games, music, sports, free BBQ and more.
Considering Christmas lights? Think electrical safety first: As the festive season fast approaches and the decorations come out of storage, Essential Energy want those who install do-it-yourself Christmas displays to think first about some basic safety checks to prevent electrical incidents. Acting Regional Manager Northern, Jamie Warren said putting electricity safety measures in place prior to hanging decorations could provide peace of mind for a safe holiday season. "Ensure the home, garage and workshops are fitted with safety switches such as Residual Current Devices (RCD) or Earth Leakage Circuit Breakers to reduce the likelihood of electric shock," Jamie said. When installing lights or illuminated decorations, check for damaged or frayed cords prior to use and always follow the installation instructions. Turn off power points or light switches before replacing light bulbs and minimise the use of extension leads when organising the display. "Do not cut, drill or hammer into rooftops, walls, floors or ceilings before thoroughly checking for electrical wires," Jamie said.
Bernardi's launch new $50,000 sponsorship program: Bernardi's has announced their new sponsorship program 'Building Better Communities' which will see a total of $50,000 donated in 2019. Bernardi's are calling on applications for the first intake of the program (running from January to June 2019) which will see $25,000 of the total awarded to beneficiaries in Forbes, Bathurst, West Wyalong, Blayney and Wagga. The second intake will begin in July 2019. The initiative is designed to get customers involved in the sponsorship process and to give them ownership over who Bernardi's support as a business. Applications are open to all community groups and organisations and can be completed online at www.bernardis.net.au/community. Applications close on 14th December, with three beneficiaries announced shortly thereafter.
New children's Crossing Flags for local schools: Thirty new Children's Crossing flags have been delivered to local schools across the Parkes, Forbes and Lachlan Shire Councils. Road Safety and Injury Prevention Officer, Melanie Suitor, said: "The delivery of the new flags is part of the Councils' Children's Crossing Agreement Program, which are resigned every two years. The agreement sets out the roles and responsibilities of both parties (school and Council) in relation to the use of the Children's Crossing and the flags. The Program started in 2016 after it was discovered that there was confusion about how a Children's Crossing operates.