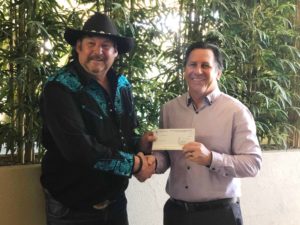 Forbes Country Music Club receives donation from RSL: Forbes Services Memorial Club General Manager, David Fitzgerald praised Forbes Country Music Club President, Phil Redding on Monday for the great work that has been done towards the Country Music Club this year. Being one of the club's most successful years with the combined hard work of Secretary Helen Field, they were able to secure funding from many other major businesses this year. This paved the way for a very successful Forbes Talent Quest. This cheque will go towards next year's Talent Quest. "I am honoured by the response and help given towards Forbes Country Music Club. This also helps us with fundraisers, where we too can give back to our community," said Phil. Fundraising money has been donated to organisations such as the SES's new sand bagging machine, the late John Rice fundraiser and this year's members campout where a large amount was raised for the Cancer Council. "We are the guardians of the future. Without sponsors like the RSL, events such as the Talent Quest would be lost and there might be nothing for our future generations," he said.
Water Notice Apologies: Council has been alerted that the recent water notices being received are a duplicate of the August accounts. Unfortunately an error has occurred at the mailing house which affects all water accounts that have been posted. Council is working to rectify this error and will have the correct accounts reissued as soon as possible. Water accounts received by email should not be affected. Council wishes to extend an apology for all ratepayers affected by this error and thank you for your understanding.
Water for skaters and their pooches: A new water bubbler has been installed at the Skate Park as part of the upgrades of this area. The bubbler includes a water fountain, drink bottle filler and a doggy bowl.
At the ski dam this summer: In the next few months some changes will be made at the ski dam. These include new and expanded playground equipment; beach area extended; new planting and irrigation in the gardens; upgraded amenities and new fencing and disabled parking and access.
Scarecrow and Veggie Garden Competitions: Don't forget the Scarecrow and Veggie Garden Competitions is on next Saturday, 10th November from 9am at the Forbes Riverside Community Gardens.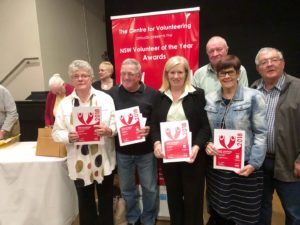 CanAssist Forbes had some of their longstanding and hard working members receive award certificates at the recent NSW Centre for Volunteering Awards Night held in Bathurst. They were Chris and John Gorton, Lee Marsh, Kerry Dunstan and Carolyn Morrison, who was accompanied by husband Geoff.