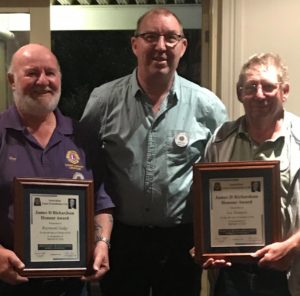 CONGRATULATIONS… Two hard working Forbes & District Lions Club members were honoured with the "James D Richardson" award at the Lions meeting held last week Tuesday. Graham Williams (middle) congratulated and thanked Raymond Judge (left) and Ian Bennett (right) for their hard work and dedication to Lions International and the community of Forbes.
Latest Competition: Don't forget to enter our latest competition and you could be off to the Australian National Field Days. Fill out the form on the front page or enter via the website www.forbesphoenix.com.au or via Facebook.
Encourage Students to Nurture a Greener Future: Local primary schools and early learning centres are set to go on a journey to a greener future, with applications now open for the first round of the Woolworths Junior Landcare Grants program. The program is being funded from the sale of the Woolworths 'Bag for good'. Sales to date have raised over half a million dollars towards the program which will help young Australians be hands-on with gardening and recycling projects. There will be at least 500 x $1,000 grants on offer in this round. To find out more and to apply visit: https:// landcareaustralia.org.au/woolworthsgrants. Applications close on 23rd November.
Spring Photo Competition: The Forbes Phoenix has teamed up with Farmer From Down Under Photography to launch a spring photo competition. We would love to see the great photos our readers can come up with. A wonderful prize is up for grabs – a framed picture donated by Farmer From Down Under Photography! Entries must be submitted to The Forbes Phoenix by Tuesday, 31st October. Entries can be sent to sales@forbesphoenix.com.au or via our Facebook page.
Forbes White Ribbon Day: The Forbes Domestic & Family Violence Committee is inviting the entire Forbes community to walk with them in their annual White Ribbon Day March to be held on Friday, 23rd November. The walk is in support of Australia's campaign to stop men's violence against women. Everyone will meet at Cross Street in front of Carpet Court at 10am and will finish in Victoria Park. Here, our youth will share their thoughts on why it is so important to stand up and speak out against violence and how together we can all make Forbes a safer community for everyone. A free sausage sizzle will be provided.
More than 180 people from all over Australia gathered in Forbes last weekend to take part in the Forbes Mega Farm Rescue. These amazing volunteers partook in a week of renovations to 14 farms in the Forbes district.