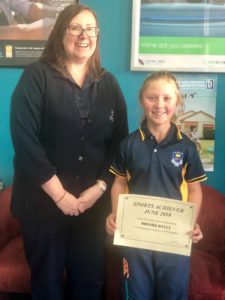 CONGRATULATIONS… Brooke Kelly was named the Central West Credit Union Sports Achiever for June. Kara Bellach was there to congratulate her. Brooke has been selected in the NSW team to compete at the National Interschool for Equestrian. She will compete against all states in Australia and also representatives from New Zealand.
Warbirds Downunder Temora competition winners: The lucky winners of our Warbirds Downunder competition are Gay Bayley and Jeff George. They will each receive a family pass to the event.
Latest Competition: Don't forget to enter our latest competition and you could be off to the Australian National Field Days. Fill out the form on the front page or enter via the website www.forbesphoenix.com.au or via Facebook.
Greater Access To Drought Support: The NSW Government announced it is making it easier for farmers and their families to access the Drought Transport Subsidies and the Drought Assistance Fund. The current criteria is being lifted from a $1 million off-farm assets to $5 million, which means more farmers will now be eligible to access drought assistance. The criteria for 'new entrants' have also been created within the government's drought assistance guidelines to support farmers who are new to the industry. In addition to amending the access criteria, it's easier for farmers to get help completing and submitting drought support applications, with Local Land Services offices now providing this assistance. The Rural Assistance Authority (RAA) is open until 10pm weeknights, allowing farmers who have been out in the paddocks all day a greater opportunity to seek support. Department of Primary Industries (DPI) research stations and 37 Service NSW offices can also provide assistance to complete drought support applications. For more information visit www.droughthub.nsw.gov.au.
Spring Photo Competition: The Forbes Phoenix has teamed up with Farmer From Down Under Photography to launch a spring photo competition. Point your camera just about anywhere to get a scenic shot. We would love to see the great photos our readers can come up with. A wonderful prize is up for grabs – a framed picture donated by Farmer From Down Under Photography! The competition will run until October, with entries to be submitted to The Forbes Phoenix by Tuesday, 31st October. Entries can be sent to sales@forbesphoenix.com.au or via our Facebook page.
Scarecrow Competition Time: The challenge is set to build an amazing scarecrow for this year's annual Forbes Community Garden Scarecrow competition. It is free to enter and the entry forms are available at Forbes Shire Council, Forbes Library and the Forbes Riverside Community Garden. Entries close on Friday, 2nd November.