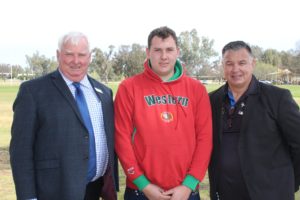 CONGRATULATIONS… The 2018 Indigenous Youth Of The Year was awarded to Kaiden Haynes of Forbes High School. The award was presented to him during the Naidoc Day celebrations held on Wednesday at South Circle Oval. Pictured with Kaiden is Mayor Graeme Miller (left) and Forbes High School Aboriginal Educational Officer (AEO), Barry Merrit (right)
Further Discounts For Farmers: Farmers in regional NSW will get more cash back in their pockets with rebates and refunds on heavy vehicle registration. The changes will come into effect from 1st November 2018. The NSW Government will provide partial refunds on previous heavy vehicle registration charges going back over three years. Farmers will also receive free registration over the next two years for their heavy vehicles. The registration rebate will apply to all renewals from 1st July 2018 until 30th June 2020. For producers who register their vehicles between 1st July and 1st November this year, the amount will be refunded. Farmers will still have to pay for Compulsory Third Party (CTP) insurance, personalised plates and relevant vehicle checks.
Spring Photo Competition: The Forbes Phoenix has teamed up with Farmer From Down Under Photography to launch a spring photo competition. With Spring all around us, you can point your camera just about anywhere to get a scenic shot. We would love to see the great photos our readers can come up with. A wonderful prize is up for grabs – a framed picture do nated by Farmer From Down Under Photography! The competition will run until October, with entries to be submitted to The Forbes Phoenix by Tuesday, 31st October. Entries can be sent to sales@forbesphoenix.com.au or via our Facebook page.
Be Connected at Forbes Library: Be Connected is a free Australian Government initiative helping people to make the most out of going online and it is coming to Forbes. Forbes Librarian, Bronwyn Clark said there's never been a better time to get online. "Central West Libraries is now a partner with the Australian Government Be Connected program, so we are hosting free sessions with one-on-one training available," Bronwyn said. "People can learn about online basics like using the internet, email, social media and just getting to know their device – phone, tablet or laptop. We have computer equipment people can use or they can bring their own device," she said. Half hourly sessions will be held on Friday, 14th September, Friday, 21st September and Friday, 28th September. The sessions are available from 10:30am. Please call Forbes Library on 6852 1463 to book your place. All sessions are free.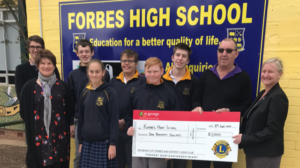 The Lions Club donated $1,000 towards Forbes High School's (FHS) fundraiser for their participation in the Schools Spectacular. Pictured in the back: Tim West, Nicholas Beard, Ryan Glennan, William Stamp, Graham Williams (President of Lions Club) and Safija Bristina (FHS Principal). Front: Nicole Patten, Kendi-Lee Morley- Diggins and Brodie Morley. The RSL Club also donated $1,200 towards the fundraiser.