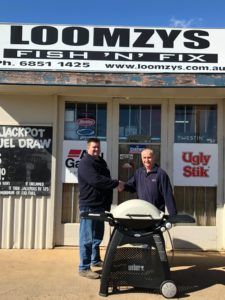 CONGRATULATIONS… The winner of the Forbes Phoenix Footy Tipping competition was Loomzy's Fish 'N' Fix, Jamie Loomes. The Weber gas barbeque prize donated by Aaron Acheson (left) from Acheson's Home Timber and Hardware was received by Jon Cutler (right), the mastermind behind the tipping.
Forbes Show Passes: The four lucky winners of our Forbes Show competition are Ellen Hamilton, Brendan Morrison, Frank Hanns and Joyce Morrison. They are the winners of a two day pass to the Forbes Show. Contact Linda van Coller on 0477 309 807 to arrange for prize collection.
Spring Photo Competition: The Forbes Phoenix has teamed up with Farmer From Down Under Photography to launch a spring photo competition. With Spring all around us, you can point your camera just about anywhere to get a scenic shot. We would love to see the great photos our readers can come up with. A wonderful prize is up for grabs – a framed picture donated by Farmer From Down Under Photography! The competition will run until October, with entries to be submitted to The Forbes Phoenix by Tuesday, 31st October. Entries can be sent to sales@forbesphoenix. com.au or via our Facebook page.
CWA of NSW Drought Relief: The CWA of NSW is providing grants for drought relief in NSW. This money is available for farming businesses that are drought affected and dependent on farming as their primary source of income. The monies are available for a wide range of household expenses; not business or farm related expenses. Eligible applicants are farmers or farming dependent contractors, and/or a farming dependent family (including families servicing farming, such as farming contractors and local rural businesses). Grant payments will be made up to a maximum of $3,000 per individual applicant and/ or household. You can apply for CWA's drought relief funding by going online at https://www.cwaofnsw.org.au/droughtaid.html or by emailing an application form to info@cwaofnsw.org.au or by post to CWA of NSW, PO Box 222, Mascot, NSW, 1460.
National Police Remembrance Day: Central West Police District Commander, Superintendent Chris Taylor, is inviting the community to join police in paying tribute on National Police Remembrance Day. A service will be held at 10am on Friday, 28th September at St George's Anglican Church in Parkes. National Police Remembrance Day on 29th September each year holds a special significance to police throughout Australia and the Pacific region and is one of the most important events on the NSW Police Force calendar. It is a day where members of the NSW Police Force and the community remember those officers who have given their lives in the course of their duties.
Ruby Stitt, Sally Rout, Isabelle Francis and Olivia Garland of Forbes Junior Rugby were selected as part of the Central West Rugby 7's side. Deryck Ward got the girls involved on Walla Days and the team thoroughly enjoyed learning different skills.