PHIL THE PIRATE… Local member for Orange, Phil Donato dressed up according to the theme of the Reading Downtown Day held last Friday at Victoria Park. Phil spent the day entertaining the children by reading captivating pirate stories to them. Mason Mcmillan helped Pirate Phil with his story-telling.
Region Enforcement Squad: Parliamentary Secretary for Western NSW, Rick Colless announced this week a new specialist police team for the Central West that will proactively target mid-level crime and bolster community safety. Rick said the Chifley Region Enforcement Squad (RES) will work hard to prevent drug and gun crime across western NSW including the Orange electorate. "With the capability to identify, prevent and disrupt mid-level crime, the specially-trained squad will focus more on proactive policing rather than reactive policing," said Rick. Consisting of one sergeant and three constables, the Chifley RES will conduct investigations into drug supply, firearms offences, property crime, and any criminal syndicates in the area. Deputy Commissioner, Gary Worboys said our city neighbours have always benefitted from specialist police, but crime can happen anywhere and resources are now being allocated to regional NSW where they are needed.
Changes to Farm Household Allowance: The Coalition Government passed legislation last week to amend the Farm Household Allowance to boost help for farmers in drought. Minister for Agriculture, David Littleproud said the changes will deliver the $12,000 FHA supplement from 1st September for couples and $7,200 for singles.
This brings the total payment for a couple to around $37,000 and to around $22,000 for a single. The Department of Agriculture estimates 27,000 farmers are potentially eligible for FHA and have not applied.
"Farmers should not guess at whether they're eligible for FHA. We recently announced an extra $5 million for the Rural Financial Counselling Service to support increased demand so please get advice from the free service," said David. Farmers already on FHA will not have to apply for the extra payments – it will be paid automatically. Contact the free Rural Financial Counselling Service (RFCS) on 1800 686 175 or the Department of Human Services Farmer Assistance Hotline on 13 23 16.
Forbes Badminton Club: The Forbes Badminton Club will be entering their second season. Set to start on 8th August, every Wednesday night from 6:30pm to 9pm at Forbes High School. Everyone is welcome to have a go! The first four weeks are social, so come and try the game. Very easy to learn and great fun for all the family. For more information email jaybhakta.fbc@gmail.com or call Jay on 0418 480 728. Find us on Facebook at Forbes Badminton Club.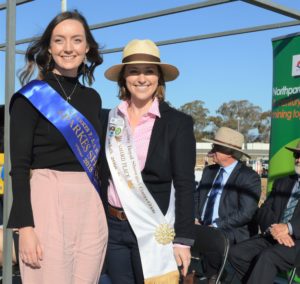 Forbes Showgirl Grace Allen, who came third in the Sydney Royal Showgirl competition, officially opened the 2018 Parkes Show on Tuesday, and crowned the 2018 Parkes Showgirl, Amelia Tanswell.