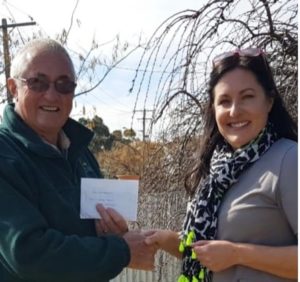 FOR A GOOD CAUSE… Kylie Spice presenting a donation to John Schrader from Can Assist Forbes. The donation is part of the proceeds from the recent ladies night fundraiser. The proceeds are shared between Can Assist Forbes and the Northside Chapel.
Forbes Badminton Club: The Forbes Badminton Club will be entering their second season. Set to start on 8th August, every Wednesday night from 6:30pm to 9pm at Forbes High School. Everyone is welcome to have a go! The first four weeks are social, so come and try the game. Doubles and singles competitions in two grades. Beginners and students more than welcome. Very easy to learn and great fun for all the family. For more information email jaybhakta.fbc@gmail.com or call Jay on 0418 480 728. Also find us on Facebook at Forbes Badminton Club.
Forbes Town & District Band: The Forbes Town Band is hosting a free concert on Monday, 27th August from 6pm to 7pm at the Forbes Services Club Auditorium. The concert and meeting is a chance for the public to share ideas in order to assist the band in developing a strategic plan for the future.
Men's Yarn Up Circle: Join the Men's Yarning Circle in Forbes. This is a men's group to talk about all issues such as domestic violence, rough past… your choice. Men listening to men! No judgement, no gossip outside the circle, no worries about being honest. We meet at 4pm every second and fourth Wednesday of the month at Community Corrections, 68 Lawler Street. Contact Barry Merritt at yarnup-forbes@ hotmail.com or Damien Kennedy on 6851 9900.
Trundle Royal Far West: The Trundle RFW branch is hosting the 'Old Time Dance' on Sunday, 2nd September from 2pm to 6pm in the Trundle Memorial Hall. There will be a raffle, lots of 'spot prizes' and afternoon tea. Cost $10 for dancers and $5.00 for viewers. Great music by Phil Redenbach. Money raised by the Trundle RFW branch, provides Speech and Language programs in the local school for those children from needy families.
'Farmers Feast': We invite all farmers and family to the 'Farmers Feast' held on Friday, 21st September. Enjoy a FREE meal at the St John's Anglican Church hall in Court Street at 6:30pm for a 7pm start! There will be a roast dinner and dessert, including a jumping castle for the kids. RSVP to book your seat/table by 14th September. Contact the Parish office on 6851 1544, Rev. Crystal on 040 872 8638 or Graeme and Ruth Klingner on 042 720 1185.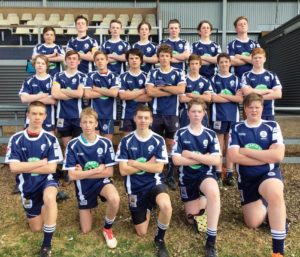 The Forbes Junior Rugby u/15's boys' team played their last game for the season last weekend in Orange. Absent: Jack Whitty