We have a name: Our lovely bronze dog outside the Post Office was named last week. Meet Rosa. Her name came from the winning entry by Amy Callaby. Amy thought this name seemed significant and relevant, as Rosa was the wife of the architect who designed the Forbes Post Office, James Bannett. Amy lives in Tooting, United Kingdom, with her husband and three children. Pictured here is Amy's sister, Jemma McLennan who made the suggestion on her sister's behalf.
Red Cross Mobile Blood Bank: The Australian Red Cross Mobile Blood service is visiting Forbes in Harold Street behind the Cenotaph in Victoria Park on Monday, 6th August at 9:45am to 2:45pm (three more donors needed); Tuesday, 7th August at 9:45am to 2:45pm (seven more donors needed) and Wednesday, 8th August 9:45am to 2:45pm (15 more donors needed). To give blood, you can make an appointment online or call 13 14 95.
Bulky Waste pick-up: Need to get rid of an old fridge or lounge or even a bbq that won't make the cut this summer? Forbes Shire Council has you covered with the Bulky Waste Clean-Up service happening on Monday, 6th August. Leave your items out over the weekend prior on the edge of the kerb. Separate your waste into scrap metal, white goods and e–waste; general bulky waste and bundled organics. We will do the heavy lifting! Don't forget not to block any footpaths and find the list of unacceptable items here: http://www.forbes.nsw.gov.au/environment/waste-recycling/ bulky-waste-clean-up.aspx.
Snap Send Solve: Another way to connect with Council is through the Snap Send Solve App. This App lets you notify Council of any problem areas you might spot around town. Snap Send Solve allows you to photograph the problem using your smartphone and report any dangerous potholes, broken playground equipment and rubbish dumping to Council. The App is available through the App Store or Google Play.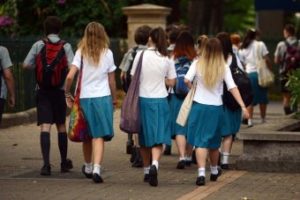 School uniform policy: The NSW Government has announced that girls at all public schools will be given the option of wearing shorts and pants instead of skirts and dresses if they prefer. Schools will have up to three years to make the change. The state's new policy also calls on all school items to be "affordable, comfortable and suitable" for all body types.