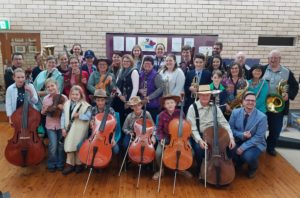 And The Band Played Waltzing Matilda: Three local music groups combined their musical talents last Wednesday for an unusual performance of Waltzing Matilda.
Members of the Lachlan Regional Orchestra, Parkes Shire Concert Band and Forbes Town and District Band met at the AOG hall to put together a recording of the legendary song which will contribute towards a final video performance on the big screen at Federation Square in Melbourne on 12th September. This final performance will be a compilation of recordings from individuals, schools and community groups from around Australia, all playing Waltzing Matilda.
The idea is a new online initiative of the Australian Music Examination Board to create the AMEB Online Orchestra. The recording process was a lot of fun, and a rare chance to put together a really diverse range of instruments (and musicians) for a common cause. Members of the three groups are all keen to find other opportunities to combine together again soon.
Forbes Ladies Probus: Forbes Ladies Club meets every fourth Friday of the month at the Forbes Services Club at 10am. The next meeting will be held on 27th July. Come join us for friendship and fellowship.
Meet new people and make new friends. For those wishing to attend the birthday luncheon in August, the amount of $25.00 is due and payable at the July meeting.
Memberships are also due and if not a financial member you will not be covered by insurance. Take care and stay warm.
Foodbank appeals to Forbes Shire residents: With 15 percent of the population experiencing food insecurity at some point every year, Foodbank and Woolworths are appealing to Forbes Shire residents to support its national public appeal and help meet the rise in need for food assistance over the winter period. The 2018 Foodbank Rumbling Tummies report found that more than one in five children in Australia have experienced food insecurity in the last 12 months, with 652,000 Australians seeking food relief via Foodbank each month. Over 1.3 million meals were provided per month to NSW residents, unfortunately however, many are still going without. From 11th July to 24th July, Woolworths customers in Forbes Shire can add a $2 Foodbank token donation to their shop, with 100 percent of funds raised going to Foodbank to deliver more food and groceries at a time of year when families most desperately need it.
The Waratahs Rugby Clinic was attended by 130 rugby players on Wednesday morning in Forbes.