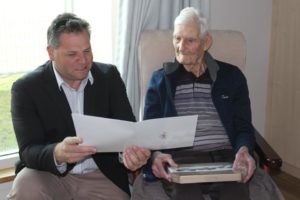 Birthday wishes: Philip Donato wished William "Bill" Britt a belated 100th birthday last week at Jemalong Residential Village. Bill, a lifelong farmer, a career which was only ever interrupted by his service in war, celebrated the significant milestone on 25th June. Philip also delivered a box of chocolates to Bill (one of Bill's favourite) along with the birthday certificate. On his birthday, Bill was heard to remark "One hundred and not out!"
Letter To The Editor: Through the very well read pages of your paper, could I please remind the community of the amazing Community Transport Service that we are offering in Forbes. If you have a medical appointment in Orange, the wonderful drivers will pick you up from your front door and deliver you right to your doctor or hospital appointment. They will wait for you and then pick you up and deliver you safely back to your own home again. There is a small charge and sometimes no charge at all. If you are not well or disabled they will even send a trained carer along to help you. If you need to know more please contact Monica at the Forbes HAAC Centre 6851 4550. Regards, Dianne Decker AM JP.
July School Holiday Fun At The YACC: Forbes Shire Council and the Forbes Youth Action Team are once again offering a school holiday programme. This July will see the Forbes Youth & Community Centre (located on the corner of Battye and Press Street) well-utilised, as local children and youth participate in a variety of activities. From 1pm to 5pm on Thursday and Friday holiday afternoons, young people are invited to come along to 'Arvos @ the YACC'. These afternoons will feature a varied programme of games and activities including dungeons and dragons, dodgeball, board games and a pool tournament. Attendees will also be well fed with a free bbq lunch and afternoon tea provided. Council's Youth Officer, Lauren Cook welcomes all youth and families to attend. "These free events and activities are designed to be inclusive and accessible for the whole community. We would love to see Forbes support the ideas and efforts of the Youth Action Team, who have planned each afternoon's activities themselves." For more information and a full programme contact Lauren Cook on (02) 6850 2357 or email youth@forbes.nsw.gov.au.

This week is NAIDOC week and though the NAIDOC committee will be running their big NAIDOC event a little bit later this year, they wanted to give a big shout out to all the amazing women of the aboriginal community!