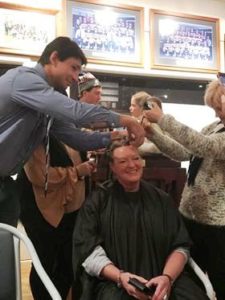 Going, going and gone… The day for Marg Stirling to shave her hair for charity had finally arrived last Saturday. Andrew Hubbard got to take the first snip off Marg's hair at the Rugby Ladies Day. Marg has been raising funds for women living in Forbes and surrounding areas that are going through breast cancer and who are in the care of Lachlan Health Services.
Girls Day Out: The Forbes Business Chamber's Girls Day Out is in full swing today with the Forbes Shopping Frenzy beginning this morning with many local businesses participating with great specials and offers in store. Look out for the pink balloons, streamers and posters displayed in windows. Be sure to make your way to News On Rankin for a book signing opportunity with renowned author Nicole Alexander between 9.30am to 11.30am, free of charge. Following will be the 'Lunch with an Uncommon Woman' where Nicole will present her story.
Improving drought support for Australian farmers: The Coalition Government will extend the Farm Household Allowance (FHA) from three to four years to help the nation's farmers with a more effective drought support. Minister for Agriculture and Water Resources David Littleproud said the changes followed the drought listening tour with the Prime Minister a fortnight ago. "Farmers said extending FHA was a sensible measure which would help them, and we listened," said David.
Time to reel in old movies: Remember the days of home movies? If you have any Lying around at home that are of national significance you can be part of the 'Last Great Film Search'. Conrad Mill of Reel Smoke, a Parkes production company and advertising agency, is keen to get residents of the Central West to rummage around to see if they can find any reels of film in boxes, sheds, under the house or in cupboards and to contact him on 0431 967 365 for an assessment on the contents. "There are two types of film that may be gathering dust," said Conrad. "Home movies which are usually on the standard 8, super 8 or 9.5mm, or 16mm reels that were dearer. Commercial films screened in cinemas or at events were generally 16mm and 35mm." Conrad is working with the National Film and Sound Archives (NFSA) in Canberra and will not charge to assess commercial films. The NFSA preserves our film history and they are interested in anything from newsreels and commercials to full or partial feature films. "They are not interested in home movies unless it is of national significance, like the opening of the Sydney Harbour Bridge for example."
Ella Richards features as 'The White Witch' in the much anticipated 'The Lion, the Witch and the Wardrobe' play presented by Parkes Christian School next week. The Forbes community is invited to share in this production by purchasing tickets from the school office.