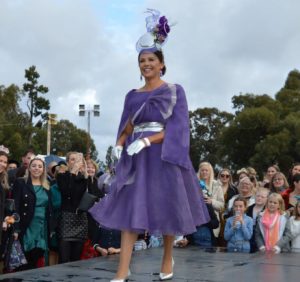 Flying the flag for Forbes… Well Done to Melissa West from Forbes on winning the Millinery category of the Fashions on the Field at the 2018 Parkes Picnic Races on Saturday.
Country of Origin Labelling: Minister for Agriculture, David Littleproud has reminded companies and consumers that country of origin labelling is just days away. From 1st July, products on supermarket shelves will be legally required to display country of origin information. "Aussie customers will be able to choose Australian and vote with their wallets. Companies which source their products from Australia will be able to display it loud and proud and reap the rewards. Aussies will very soon have the chance to choose clean, green Aussie produce. It's no surprise Aussies prefer Australian farm produce – we produce the cleanest and most ethical food in the world. Country of origin labelling shouldn't stop at the supermarket. Aussies should get the chance to support Aussie farmers in other marketplaces too. This is why I convened a meeting with fast food companies recently, in which they agreed to display country of origin information on their websites and apps," said David.
Recycle For Sight 2018: The Forbes and District Lions Club will be running their Recycle For Sight program during the month of June. This program collects used eyeglasses and sunglasses which are then forwarded to a recycling centre in Brisbane for cleaning and grading. If you have some unused glasses around the home consider donating them. More than 150 million people in the world suffer from blurred vision due to near or far sightedness which affects their ability to learn and find employment. Glasses collected in Australia and Japan are shipped to six recycling centres in Australia some of which employ people from local correctional facilities thereby teaching them skills which they can use after leaving prison. If you have unused glasses in good condition, these may be dropped into the collection boxes at the following locations, Phillip Wells Pro Vision Optometrist or Eyewear specs in Forbes.
Farming Community – we need you: Forbes Shire Council is keen to gather feedback from the farming community on what we have to plan for in our shire for the agricultural industry. Come along on Wednesday, 20th June to Bedgerebong Community Hall at 7:30am or Thursday, 21st June to Garema Public Hall at 7:30am for a free bacon and egg roll and let us know your ideas! Bookings to community@forbes.nsw.gov.au.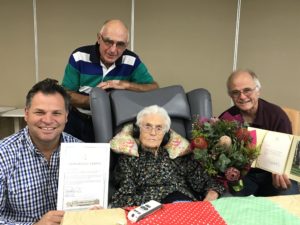 Member for Orange, Philip Donato met with 100-year-old Winifred Brown on Wednesday and presented her with flowers and a congratulatory certificate. They were joined by her two sons Scott Brown (back) and Graham Brown (right). Philip said that it was very humbling to meet Winifred. "What amazing changes she has seen in her lifetime and what a wonderful contribution she has made to her community and family inspired by her deep faith," he said.