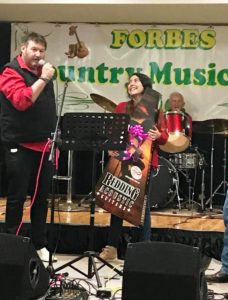 Forbes Country Music Club president, Phil Redding presented Hannah Dun from Parkes with a guitar donated by the club, at this month's muster held last Sunday. Hannah received this prize for being named dual junior overall winner in the Forbes Country Music Club Talent Quest held in May. She was very thrilled.
Pet Owners: Forbes Shire Council would like to remind dog owners who walk the lake that their pets must be kept on a leash at all times for the safety of the public. General Manager Steve Loane said that as custodians of the lake area, council is determined to ensure that the area is able to be enjoyed by all members of the community. "One of the best aspects of Lake Forbes is that it hosts a wide variety of activities- from walkers and joggers to families having picnics," said Steve. "Dogs off the lead are not conducive to the safety of these users, so we need to make sure that they are appropriately controlled." Fines of up to $220 may apply to individuals found with dogs off the lead. For more information contact councils Environment Services and Planning department on (02) 6850 2344.
Win A Swag At The Footy 'What's Your Plan B?': Footy fans can win a swag this weekend at the Parkes Spaceman versus Forbes Magpies match, thanks to the Forbes/Parkes Community Drug Action Team (CDAT). The match will take place on Sunday, 10th June from 2pm at Pioneer Oval in Parkes. Forbes/Parkes CDAT Chair, Melanie Suitor says the win a swag competition will dovetail the state-wide Plan B campaign which encourages punters to think about alternatives to driving home after a night out. Fans (who are over 18) could win a swag worth $250, simply by filling in an entry form and advising what their Plan B to get home will be. For more information please contact the Forbes/ Parkes CDAT Chair, Melanie Suitor on (02) 6861 2364.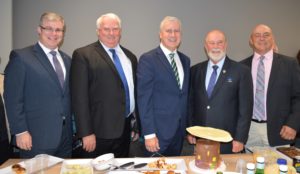 Political Presence In Parkes: National Party faithfuls from all over the Central West flocked to Parkes last Friday for the official opening of an electorate office of the Nationals' Member for Riverina and Deputy Prime Minister, Michael McCormack. "This is a really important day for me and the Central West," said Michael. "We are here to help, whether you vote for the Nationals or not. Please tell others to pop in." The MP said he was in the process of appointing a full-time staff member for the office as he would not be able to be in Parkes all the time. "I will pop in as often as I can."