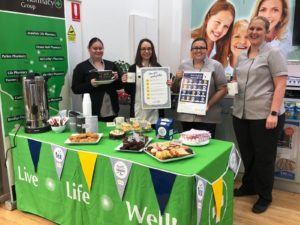 Passionate about Forbes… Life Pharmacy Forbes hosted a Biggest Morning Tea last Thursday. Staff members (L-R) Kim Harrison, Kristi-Lee Rugby, Donna Eyre and Melissa Walker not only enjoyed raising funds for Cancer Council but also the opportunity to have a cuppa and chat with customers.
Australians' $21 billion online shopping spree: More Australians are shopping online than ever with total purchases topping $21 billion for the first time, according to new research from Australia Post. Australia Post released its annual Inside Australian Online Shopping Report, an overview of Australia's eCommerce market, which identifies who is buying what and where online. The report showed that Australians spent $21.3 billion last year. Local retailers accounted for more than 80% of the total spend. To download a copy of the report, visit auspost.com.au/einsights.
Questacon Competition: Congratulations to Michael Reilly on being the winner of a Family pass to Questacon. Have a great time!
Catch of the Week winner: We have been receiving some great fishing photographs! Thank you for sending them in and please keep it coming! Tyrone Howell was our May winner. If you are a winner and have not yet done so, please collect your $25 voucher prize for Loomzy's Fish 'n' Fix in Forbes, from the Ian Simpson office and enjoy!
Renewable Rooftop Record Smashed: Rooftop solar is surging in Australia, with the rate of installation jumping by almost 60% in 2018. The Green Energy Market's 'Renewable Energy Index – April' shows a spike of 56% in the rate of rooftop solar capacity installations across the nation this year. Climate Councillor and energy expert Professor Andrew Stock said: "More and more Australian homeowners and businesses are turning to clean, affordable and reliable renewables like solar, harnessing the power of the sun and taking control of their power bills. We've got a never-ending and widely available power source at our fingertips, which can cut the nation's rising greenhouse gas pollution and combined with storage, can provide cheap power across Australia on demand, 24/7."
Sow crops safely near poles and wires: Essential Energy is urging farm machinery operators to stay safe when sowing crops near the electricity network following warmer than average autumn conditions across NSW. Prolonged heat can cause powerlines to sag and reduce line clearance heights from the ground. If machinery does contact overhead powerlines, operators are advised to stay in the cabin of their vehicle and contact Essential Energy immediately on 13 20 80." Electricity can arc or 'jump' across open spaces, so bystanders should remain at least eight metres away and treat powerlines as if they are 'live'.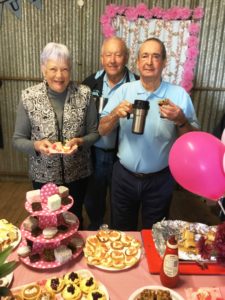 Pam and Rad Stevens from Forbes and Norm Barnes from Orange indulging in the delicacies displayed at the Biggest Morning Tea hosted by the Lachlan Valley Caravan Club at the Kiacatoo Hall last Friday.