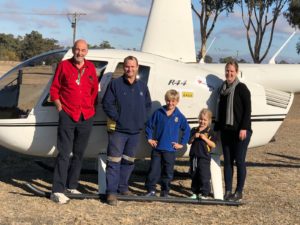 Winners… Forbes Public School hosted a breakfast on Wednesday at the Showgrounds sheering shed for the NSW Bashers. Bruce, William, Josie and Karina Watson were the lucky winners of a helicopter ride sponsored by The Variety Bash.
NSW kids need to get active: With more than half of NSW primary school children now travelling to school by car, the Heart Foundation NSW is calling on the NSW Government to protect the health of the next generation by funding children's active travel to school. The Heart Foundation is calling for a fully funded five-year active travel to school program to be allocated to NSW schools to improve walking and cycling infrastructure. The charity is also asking the NSW Government to run programs in schools and local communities to help ensure children and their parents build new active travel habits. Heart Foundation NSW Chief Executive, Kerry Doyle said the timing is critical, with more than 20% of NSW school children currently overweight and only one in four getting sufficient physical activity each day.
Biggest Morning Tea: For 25 years, Cancer Council's Australia's Biggest Morning Tea has brought together millions of Australians over a cup of tea in support of those affected by cancer. Cancer Council is once again encouraging people across Australia to gather their friends, family or workmates for a cup of tea and a bite to eat whilst raising money to support Australia's Biggest Morning Tea and to help those af fected by cancer. In 2018, the official day to host a morning tea was Thursday, 24th May but anyone can host at any time in May or June. Those who want to host can register at biggestmorningtea.com.au or call 1300 65 65 85 to receive a free morning tea host kit. Locals unable to host a morning tea can still get involved by donating directly to Cancer Council via biggestmorningtea.com.au.
Regional leaders sought: Applications are now open for the new Regional Development Australia (RDA) Central West Board. As the current RDA Central West committee term comes to an end, applications are now open for regional leaders with vision, drive and experience for the next committee. Central West residents from community, business and government with a passion for the region are encouraged to apply. RDA Central West is a highly respected not-for-profit organisation supporting regional development projects and services across 11 local government areas in Central West NSW from Lithgow to Lachlan. To apply for the new RDA Central West Committee, please go to http://www.rdacentralwest.org.au/about-us-2/positions-vacant/. Applications close on Monday, 18 June 2018.
Fiona Howarth, Gabrielle Boland, Jacob Howarth, Jade Carpenter, Brodie Dukes and Samantha Thornton handed over the proceeds of their successful debutante fundraiser to John Schrader from Forbes CanAssist, their chosen charity.