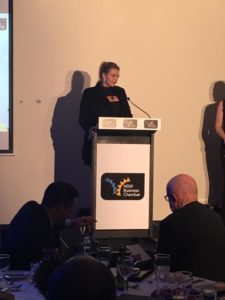 Congratulations… The Western NSW Business Awards were held last Friday in Bathurst. The Excellence in Business Award went to H E SILOS. Well done!
Forbes Handicraft Centre: The Handicraft Centre will be holding a series of basic knitting and crocheting lessons for beginners or anyone wishing to update their skills by learning new stitches. The lessons will be held each Wednesday, commencing at 10am until 12.30pm. The cost is $5 per person, each person is to bring their own supplies (at least one ball of 8 ply wool and a crochet hook size 4.5 or 5.00 or knitting needles). If you are interested in participating please call Marg Maguire on 0478 225 163. Also the next Market Day Stall will be held on 19th May, commencing at 9am until 1pm outside the shop in Lachlan Street. There will be lots of home cooking available,
plants on display, fresh farm eggs, in season produce and many handmade items. The Handicraft Centre's Biggest
Morning Tea will be on Thursday, 24th May, commencing at 10am until 12 noon at 83 Lachlan Street, for $5 per person. All funds raised will go to the Cancer Council.
Inland Rail Community Consultative Committees: The Australian Rail Trac Corporation (ARTC) is calling for nominations for four Inland Rail Community Consultative Committees in NSW. There will be three committees for the 307km greenfield Narromine to Narrabri section of the project; and a committee for the 37km greenfield North Star to NSW/Queensland border section. People can nominate to join any of the committees in Narromine, Gilgandra, Narrabri and the North Star to Border section. The committees will consist of up to 15 people and each will have an independent chair. Committee meeting dates and locations will be advertised and will be open to the public and the media. More information is available at Inlandrail.com.au or by calling 1800 732 761 or emailing inlandrailnsw@artc.com.au.
Lions Car Boot Sale: The next Lions Car Boot Sale will be held on Saturday, 19th May. This will be held at Lions Park from 8am until 1pm. Admission to the markets is free. There will be varieties of goods for sale, from hand crafted items and produce, to second hand wares. Site fees from the day will be donated to Havannah House. The Lions members will be catering with their barbeque food and also hot and cold drinks. Those wishing to hold a stall on the day are charged $10 and should contact Peter 0439 280 994 or Robyn 6851 2209.
The Red Bend Catholic College Show Team attended the Dubbo Show last week. Lilly Hand took Reserve Champion Junior Judge for 15 to 18 year olds. Lilly, Hannah Brown, Mackayla Cox and Olivia Twyford also did well with parading. Cattle judging day went well with 'Binky' winning Champion steer and 'Norto' taking Limousine bull.