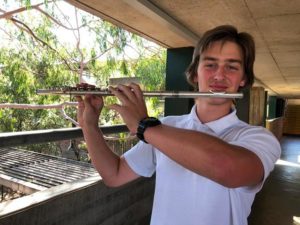 The sound of music… Forbes High School Year 10 student, Tom Boyd has been invited to be part of the West of the Divide Tour travelling to Italy in January 2019. Tom will be using the opportunity to further develop his musical talents on the flute.
Rotary Ipomoea Market: Rotary Ipomoea have their May market this Saturday, 12th May at Sir Francis Forbes Park in Camp Street from 8am to 12.30pm. The Relay for Life event is on the adjacent oval. Rotary members are hoping that the markets will encourage people to visit the relay site and lend support to the teams as well as visiting the market and enjoying the market atmosphere. Mother's Day is also on this weekend, so people might like to bring their mothers and grandmothers along to the market and relay events. The Forbes Town Band ensembles will be playing at the market and relay sites to raise money for the Town Band relay team. The Rotary catering van will have a hot breakfast at the market and the coffee man will also be there.
Lions Car Boot Sale: The next Lions Car Boot Sale will be held on Saturday, 19th May. This will be in the pleasant surrounds of Lions Park from 8am until 1pm. Admission to the markets is free. As usual there should be a variety of goods for sale, ranging from hand crafted items and produce, to second hand wares. Site fees from the day will be donated to Havannah House to help with their work. The Lions members will be catering with their barbeque food including the generous Lions burger and also hot and cold drinks. Tickets will be available in their grocery voucher and wood raffles. Those wishing to hold a stall on the day are charged $10 and should contact Peter 0439 280 994 or Robyn 6851 2209 for more information.
Forbes Diggers Harness Racing Club competition: Well done to Joanne McRae and Michael Craft on being our competition winners!
iTunes card scams are doing the rounds: Police have received a number of reports in our area of scammers trying to get iTunes vouchers from potential victims. The scammer contacts a person advising them that their computer may have a fault and they need to be paid to repair it; that the tax office has a warrant for their arrest and they can pay the fine with iTunes cards or to pay a release fee for an additional payment, such as from Centrelink; or other similar stories. If you have been a victim of a scam, please report it via www.scamwatch.gov.au.
The 'Coffee With A Cop' event was a great success in Forbes with many community members utilising the opportunity to meet officers from the Central West Police District at The Bakehouse on Tuesday. Everyone enjoyed the event and had some great discussions.