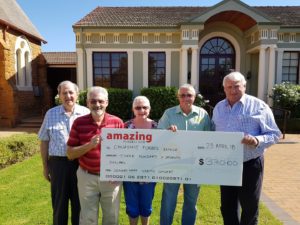 Generosity… Leo Curran, Neil and Jane Gilmour and Mayor Graeme Miller presenting a cheque for $370 to John Schrader of CanAssist Forbes. This being the proceeds of the variety concert held by Forbes Shire Council during Seniors Week.
Forbes Special Sports Day: The annual Forbes Special Sports Day will be held on Wednesday, 2nd May at the Red Bend Catholic College gym. This will be the 37th year for this sports day and contestants come from as far as Orange, Dubbo, Condobolin, Parkes and Forbes. The official opening begins at 9.30am with morning tea and a march led by Brian Tisdell (bagpiper) and the College drummers. There will be novelty races and some serious competition. Everyone is welcome! Some of our disabled contestants have attended every one of these events.
Celebrating 25 years of Australia's Biggest Morning Tea: For 25 years, Cancer Council's Australia's Biggest Morning Tea has brought together millions of Australians over a cup of tea in support of those affected by cancer. This May, Cancer Council is once again encouraging people across Australia to gather their friends, family or workmates for a cup of tea and a bite to eat whilst raising money to support Australia's Biggest Morning Tea and to help those affected by cancer. In 2018, the official day to host a morning tea is Thursday, 24th May, but anyone can host at any time in May or June. Those who want to host can register at biggestmorningtea.com.au or call 1300 65 65 85 to receive a free morning tea host kit.
National Zoo & Aquarium Canberra competition: Congratulations to Sandra Albertson for WINNING our National Zoo & Aquarium Canberra competition last week!
NSW Farmers hit by driest period in a decade: Farmers across the NSW Central West are battling what is being described as the driest period in at least a decade. Some areas have received around a third of their average rainfall. It is not just the lack of rain, but also the heat, with recordbreaking temperatures close to 10 degrees above average. The dry start to 2018 follows a record dry winter last year and a spring where rainfall levels were lower than average. Emu Swamp farmer John Blunt said it was as dry as he had seen it since at least 2007. "Most of us are supplementary feeding and there are costs associated with that. We've been taking a risk and planting oats, but the only saviour will be if there's soaking rain soon."
New Job Helps Charles Live Like A Prince: Charles Hamer is a great example of dedication and resilience. From having no job, living in shared accommodation and no licence, the Currajong Disability Services (CDS) client is now ticking all the boxes, not only because of his drive, but also due to the tremendous support from his carers. "I am now in my first month at McDonalds, living independently and have a full licence," he said. "It has been a real boost to my confidence and I can say I have never been happier! I am actually contemplating doing some TAFE courses and study to further my hospitality skills and add to my existing skill set. I just take one day at a time and keep doing the best that I can," he said.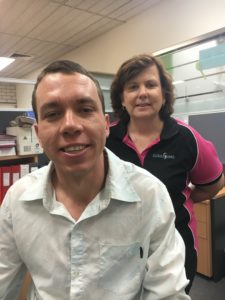 Charles Hamer with Donna Little from the Currajong Disability ervices.