The Forbes and District Relay For Life: Event will take place from 12th to 13th May at the South Circle Oval. This year's theme for the Relay For Life is 'Forbes Farming Games'. A nod to the agricultural industry in the area with a competitive edge, after experiencing all the Commonwealth Games action. Come along to a team information night to find out how you can make a difference through participating in Relay For Life. It will be held on Tuesday, 24th April at the Services Club Auditorium 6pm or Saturday, 5th May at the South Circle Oval 6pm. For more information visit www.relayforlife.org.au/forbes or call Cancer Council NSW Orange Regional office on (02) 6392 0800.
Competition: Don't forget to enter the latest Phoenix giveaway on the front page. You could WIN a double pass to the Forbes Harness Racing Carnival of Cups on 6th May. You can also enter online at www. forbesphoenix.com.au
Immigration Good For Western NSW Businesses: Research prepared by the Federal Treasury and Department of Home Affairs has confirmed what the state's peak business organisation, the NSW Business Chamber, has always said – a targeted skilled migration program is making a valuable contribution to our economy and business. "Across Western NSW, businesses are struggling to fill key positions, and while there can be no doubt that we need to do more to train a greater number of our young people, Australia's skilled migration program provides essential support that has kept many businesses afloat," Ms Seccombe said.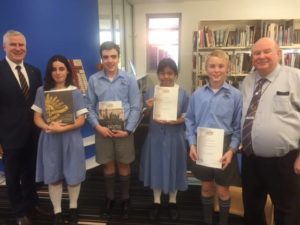 ANZAC Day Writing Competition: This year the National Party's Member for Riverina, Mr Michael McCormack, invited students from his electorate to contribute an imaginative piece of writing on "ANZAC Day in the Riverina and Central West." Several of the Year 9 and 10 students from Red Bend Catholic College entered pieces. Mr McCormack, who is also the Deputy Prime Minister of Australia, visited Red Bend last week to present awards for this competition. He spoke of his love of history and writing, especially in his former job as a journalist and newspaper editor. He encouraged the students to strive to achieve their best, setting the bar higher rather than lower. There were over 700 entries in the competition. Sienna Emseis of Year 9 was the winner in the high school category, while James Finn of Year 9 received a highly commended award.