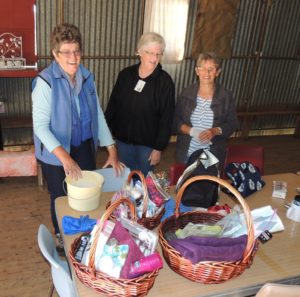 Lachlan Valley Caravan Club members Elaine Bright, Nessa Dowton and June Dolle preparing baskets for raffles at The Biggest Morning Tea, to be held at Kiacatoo Hall on Friday, 25th May.
Aero Spectacular: The Parkes Aero Club was formed in 1948 shortly after the RAAF Station was decommissioned. The club represents one of the oldest continuously operated aero clubs in Australia. Don't miss out on the club's 70th anniversary on 14th April with a spectacular air display, including the famous Air Force Roulettes. Apart from the air display, there will be on ground static displays of antique aircraft and cars, merchandise and food stalls, jumping castle and other attractions for children. Gates open 10am, air display from 12 to 3pm.
Entry fees $60 (2 adults 2 children), adults $25, to 18 years $10. Congratulations to the winner of The Forbes Phoenix competition Kaye Craft.
Nominate outstanding volunteers: Local communities will get to have their say in nominating local volunteers in this year's local health awards. The 'Volunteer of the Year' will be awarded as part of the Local Health District's ongoing commitment to quality and safety improvement. There are more than 400 volunteers across our 39 health facilities that help out in a range of activities from gardening to running exercise classes and assisting in kiosks and hospital auxiliaries. To nominate a local volunteer from your local health facility, please contact your local health facility. A list of local health facilities can be found on the Health District website. The Health District is always looking for new volunteers, so if you've ever thought about volunteering, please talk to your local hospital. Applications for 'Volunteer of the Year' nominations close on 19th April.
WOW Day: Wow, it's around the corner! Join the thousands of people across Australia who wear orange and take the time to say thank you to the SES volunteers who give so much. On 'Wear Orange Wednesday', 23rd May is your chance to show support for all State Emergency Service (SES) volunteers around Australia. There are more than 9,000 dedicated SES volunteers in NSW alone, who give their personal time to respond to emergencies across the State, 24 hours a day. Learn more http://www.wearorangewednesday.com.au/.
Golf Dates: Saturday, 14th April we have an 18-hole Par comp, with the Stableford Medley on Sunday. On Saturday, 21st April is the 4BBB Stableford Medley for the Hawke Trophy, for which you will need a partner. Sunday is the 18-hole Stableford Medley.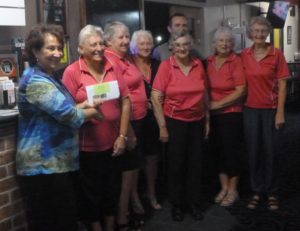 Vanessa Herdigan presenting the prizes to the Summer Sixes winning team 'Bush Divas', assisted by Simon Houston.