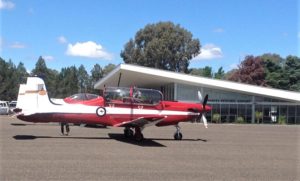 Aero Spectacular: The Parkes Aero Club was formed in 1948 shortly after the RAAF Station was decommissioned. The club represents one of the oldest continuously operated aero clubs in Australia. Don't miss out on the club's 70th anniversary on 14th April with a spectacular air display, including the famous Air Force Roulettes. Apart from the air display, there will be on ground static displays of antique aircraft and cars, merchandise and food stalls, jumping castle and other attractions for children. Gates open 10am, air display from 12 to 3pm. Entry fees $60 (2 adults 2 children), adults $25, to 18 years $10. Enter our competition on page 2 to win a double pass.
Thumbs Up: To Mel and her team in the Woolies deli. Always happy and helpful.
Catch of the Week winners: We have been receiving some great fishing photographs! Thank you for sending them in and please keep it coming! Keith Mackay was our March winner. If you are a winner and have not yet done so, please collect your $25 voucher prize for Loomzy's Fish 'n' Fix in Forbes, from Kate Small at the Ian Simpson office and enjoy! Colette Middleton, Jack Cole and Che Che Bilog still have vouchers waiting for them.
Forbes CWA March Activities: The members of the Forbes CWA would like to thank the community of Forbes for supporting their recent fundraiser. Thanks also go to Bernardis for allowing part of their entrance for the selling of tickets. The raffle was drawn on Friday, 23rd March. The winner was Annette Lyle from Forbes. Recently the CWA had their group craft and cooking day at Bogan Gate. Forbes branch won the Christmas decoration challenge. Many thanks go to Dawn Ible for her ideas and encouragement. Dawn also received 1st prize for her rhubarb cake, Robin Pols gained 1st prize for her coconut cake and congratulations to Jan Ridley for her 1st prize with her sponge. Jan's cross stitch was selected to go on to the next level and Elaine Bright had a felted hat selected for the next level of judging as well. New members are welcome! If you are interested you can attend the meetings on the 1st Friday of each month at the CWA Hall in Lachlan Street at 1.30pm.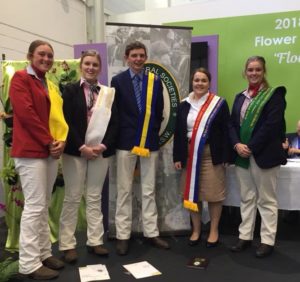 Kelsey Muller (far right) from Forbes Show came 5th in the State Grain Young Judges Competition of the Sydney Royal Easter Show! Heather Earney from group 10 took 1st place, 2nd was James Williams from Merriwa, 3rd Sarah Townsend from Grenfell Show and 4th Megan Seis from Dunedoo Show Society.