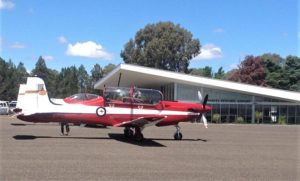 Aero Spectacular: The Parkes Aero Club is celebrating its 70th anniversary on 14th April with a spectacular air display. Apart from the air display, there will be on ground static displays of antique aircraft and cars, merchandise and food stalls, jumping castle and other attractions for children. Gates open at 10am, air display from 12 to 3pm. Entry fees $60 (2 adults 2 children), adults $25 and to 18 years $10. Win a free flight in the prize draw for all online purchases through 123 Tix.
World's Greatest Shave: Our wonderful Forbes Phoenix sales lady, Kate Small is taking part in the #worldsgreatestshave this year. She has pledged to get a 'hidden rainbow' done at Hair with Style this Friday and will document her journey on our Facebook page. She is very nervous about this extremely colourful change but hopes to raise at least $250 towards helping families struggling with cancer. Go to worldsgreatestshave.com and search Katelin Small to donate to her page. Every cent counts!
Netwaste BYO Coffee Cup Winners: Congratulations to: C. Nelson, Ann Nelson, Graeme Thornton, Annette Thornton, Cheryl Walklate, Lorraine Chanolen, Bev Chandler, A. Haley, Bev Green, Phebe Woods, David Acheson, Sueanne Nixon, Lyn Goodwin, Bruce Adams, Lyn Ward, Jennifer Purdie, Ron Hocking, Sandra Hock ing, Lyn Goodwin, Sandra Albertson, Carol Gorton, Julie Smith, Christine Budge, Erin Bond and Linda van Coller. Please collect your cups from the Forbes Phoenix desk at Ian Simpson and Co at 88A Lachlan Street.
Youth and Heritage Awards: A reminder that there is only one week left to lodge your nominations for the Youth Week and Heritage Week awards. Applications for the awards close on Friday, 23rd March.
Northside Chapel Fundraiser: The Northside Chapel operates from the old Guide Hall in Johnson Street and brings games and Bible stories to young people in the area. The children are picked up from their homes by bus every second Sunday in the month and every Wednesday and are returned home afterwards. The gathering is growing and a bigger bus is required. To raise funds for the bigger bus the Chapel committee have decided on a sheep drive and are asking producers to give a lamb or sheep on sale day, the 10th April. Contact Ian Thomas for further information on 6851 4350.
This year's Footy Tipping competition prize is donated by Aaron Acheson from Acheson's Home Timber and Hardware. Aaron has kindly donated a family Weber valued at $788. Good luck to all the participants!