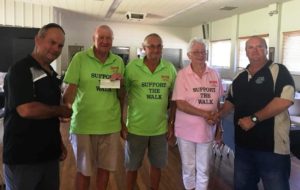 'Seventy for 70 Thousand Walk': Approximately 70 bowlers took to the greens of the Forbes Sport and Recreation Club and were extremely generous during the auctions, raffles and fundraisers that followed. Approximately $8,500 was raised and the organisers would like to thank everyone who participated during the day, and a special thanks to the business houses of Forbes for their generous donations.
Forbes Ladies Probus Club: It is deeply regrettable that the Forbes Ladies Probus Club is on the verge of sinking should any person or persons not put their hand up for all the executive positions that are being vacated. Many of the ladies who have held positions in the past feel that there are other capable members who are able to take a position for the ensuing twelve months. The annual general meeting will be held on 23rd March and thus far there seems to be no interest in any of the positions becoming vacant. On 12th March at 2pm at the Services Club the Executive and Committee members are holding a meeting to try and resolve matters to stop the Club from folding. Please think about taking on a position for the coming year so this club does not fold. If you are at all interested in taking a position please phone President Wilma on 6852 2736 or Secretary Margaret on 6851 1636 before 12th March.
Red Cross Calling This March: This month Forbes locals will join a wave of action across Australia to raise money for Red Cross. The Red Cross calling campaign is taking place in show of support for people in Australia and overseas who have fallen on tough times. If you have spare time, we would like you to doorknock just the street you live in. Please call Wilma Hepburn on 6852 2736 if you would like to help. There are many ways to get involved with Red Cross.
Winner: Robert Muffet is the lucky winner of the double pass to the Taronga Western Plains Zoo in Dubbo. Congratulations!!
IN IT for AUTISM: Jump into the 2018 Walk for autism! Are you as excited as us to take on the 10,000 steps challenge from the
8th to 15th April? Register today at www.walkforautism.org.au and start stepping towards a world where no-one on the autism spectrum is left behind. #walkforautism