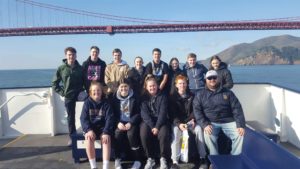 Discovering the World… Forbes High School students took part in the G'Day USA 20 day school program during the summer holidays. The students who visited the United States were Tyrone Clothier, Jessica Ashcroft, Georgia Palazzi, Montana Palazzi, Ethan Markwort, Wally Campbell, Jade Carpenter, Gabrielle Boland Kelly, Fiona Howarth, Kristian Markwort, Tyler Murphy and Konnor Ryan.
Awards For Bringing History To Life: Making history come alive in Forbes is an exciting way of sharing and learning the rich heritage of our town. The people charged with the responsibility of sharing this knowledge are often volunteers who started out from a personal interest or while researching family history. It is those people who know and celebrate the exciting past, that Forbes Shire Council will be recognising and rewarding with the presentation of the Forbes Heritage Medal and Volunteer awards. Nominations are now open for two significant heritage awards. The Heritage Medal and the Heritage Volunteer Award. Nomination forms and judging criteria are available at Forbes Shire Council's Administration office or can be downloaded from Council's website. Nominations will close at 5pm on Friday, 23rd March. The awards will be presented as part of the Heritage Week celebrations in May.
Red Cross Calling This March: This month Forbes locals will join a wave of action across Australia to raise money for Red Cross. The Red Cross calling campaign is taking place in show of support for people in Australia and overseas who have fallen on tough times. If you have spare time, we would like you to doorknock just the street you live in. Please call Wilma Hepburn on 6852 2736 if you would like to help. There are many ways to get involved with Red Cross.
Catch of the Week Winners: We have been receiving some great fishing photographs! Thank you for sending them in and please keep it coming! Jim Carty (February) was our lucky winner. If you are a winner and have not yet done so, please collect your $25 voucher prize for Loomzy's Fish 'n' Fix in Forbes, from Kate Small at the Ian Simpson office and enjoy!
PopUp Op Shop With A Purpose: Go and shop at the Parkes Christian School hall tomorrow (Saturday) from 3 to 5.30pm to help women in developing countries through Compassion Australia. Get your friends, daughters, grans and aunts together for a fun afternoon of shopping of pre-loved fashion, and learn about Compassion Australia and how they assist mums and babies is the developing world. There will be a short information session about Compassion at 3.30pm, plus a parade and auction of some donated items. Contact Katrina Harris on 0408 601 774 or k.harris@parkescs.nsw.edu.au. Visit https://www.compassion.com.au