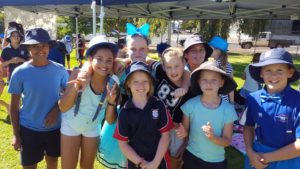 Team Spirit… St Laurence's School had a sensational day of swimming at their annual swimming carnival held last week. Congratulations to the Farrand and Dalton teams who share the carnival champion win.
Bringing fitness to Eugowra farmers and community: Active Farmers will be arriving in Eugowra, led by local fitness instructor, Haylee Redfern. To celebrate the arrival, Eugowra farmers and surrounding community members are invited to attend a free launch event on Sunday, 11th March at 8.30am at the Eugowra Sports and Recreational Ground. The free event will include an Active Farmers group fitness class, followed by breakfast and an information session. For more information, go to the Eugowra page on the Active Farmers website http://www.activefarmers.com.au/eugowra/. To RSVP please go to the 'Active Farmers at Eugowra Launch Event' page on Facebook.
E-cigarettes in smoke-free areas: The Heart Foundation NSW and 22 prominent health organisations are renewing their call for the NSW Parliament to ban the use of e-cigarettes in smoke-free areas. NSW remains one of the last states in Australia to prohibit the use of e-cigarettes in smokefree public spaces. A new report prepared for the Unites States' Food and Drug Administration on Public Health Consequences of e-cigarettes has assessed that there is conclusive evidence that e-cigarette use increases airborne concentrations of particulate matter in indoor environments and puts children, pregnant women, the elderly and people with cardio respiratory diseases at particular risk.
Churchill Fellowship: Applications for the 2018 Churchill Fellowship are open. This prestigious award offers Australian citizens the opportunity to travel overseas to investigate a topic or an issue they are passionate about. No prescribed qualifications are required. The Trust's National Roadshow of information sessions is visiting 24 locations this year commencing on Thursday,8th February in Mildura. Register to attend a session to gain helpful advice on how to apply and discuss your project ideas at www.churchilltrust.com.au/events. Find out more on how you can travel the world to benefit Australia by visiting www.churchillfellowships.com.au. Applications close Friday, 27th April 2018.
Forbes Clean Up: Clean Up Australia Day will be held on Sunday, 4th March. Get your friends and family to come down, pull on some gloves and help to keep Forbes beautiful! Registration for the Forbes Shire Council clean-up will begin at Victoria Park from 8.30am, with the official clean up from 9.00am to 12.00pm at various points around the shire. A free lunchtime barbecue will be held afterwards at Victoria Park to thank you for your hard work.