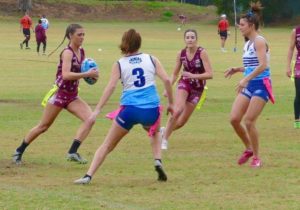 Special guest appearance… Australian League Tag player, Alana Andrews (left) will be the special guest at this year's Annual Presentation Dinner for the Forbes Sportsperson of the Year Awards held on Saturday, 24th February at the Forbes Golf & Sportsman's Hotel commencing at 6.30pm.
Free Loose-Fill Asbestos Testing: The NSW Government is offering free tests for loose-fill asbestos insulation in the Forbes Shire Council area after a property in the area was confirmed to contain the product. Parliamentary Secretary for Western NSW, Rick Colless urged homeowners to sign up before 12th March for the free sample testing. "If you are the owner of a pre-1980's residential property in the Forbes Council area, you are eligible to register for the free testing," said Rick. "Once the testing has been completed, the outcome of those tests will inform any further action that needs to be considered."
If your home is found to contain loosefill asbestos insulation there are options available, including having your home purchased at market value – as if it didn't contain loose-fill asbestos. You can register for free testing online at www.loosefillasbestos. nsw.gov.au or call Service NSW on 13 77 88.
You can also speak to a NSW Fair Trading representative about the free testing on Tuesday, 20th February (11am – 4pm) outside Bernardi's IGA; Wednesday, 21st February (9am – 2pm) at Bunnings; Wednesday, 28th February (9am – 2pm) outside Bernardi's IGA and Thursday, 1st March (9am – 2pm) outside Woolworths.
Catch of the Week Winners: We have been receiving some great fishing photographs! Thank you for sending them in and please keep it coming! Jack Cole (December) and Colette Middleton (January) were our lucky winners. If you are a winner and have not yet done so, please collect your $25 voucher prize for Loomzy's Fish 'n' Fix in Forbes, from Kate Small at the Ian Simpson office and enjoy!
Wirrinya Farewell: The Wirrinya community held a farewell luncheon for Jeff and Ann Moon, Trevor and Sandra Toole and Angus and Kim Maslin at the Wirrinya ski dam on Saturday, 10th February with just over 90 people attending. It was a great send off for them all; in appreciation for all the commitment and dedication they had given the community over the many years living in the district. The Toole and Moon Family have been in the district for two generations and the Maslins bought the farm from Fred Anderson 25 years ago. The Wirrinya Progress gave them all a cheese board with the name of their property on it. All three families have moved into Forbes.