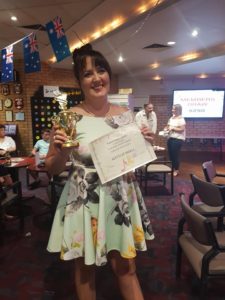 Rising Star… Kate Small won 1st place in the senior category at the Narromine USMC Summer 2017/2018 Karaoke & Talent Quest Grand Final that was held at the club on Australia Day.
Aussie Kids At A Standstill: Too many Australian children are not doing enough physical activity to maintain good health, a new report reveals. Leading health experts are urging parents and schools to help children become more physically active. Over 70% of Australia's children and 91% of young people are not meeting sixty minutes physical activity every day. Lack of sufficient physical activity places children and young people at significant risk of developing diseases such as diabetes, cancer and heart disease. It also contributes to higher body weight. To read The Active Travel: pathways to a healthy future reportgo to https://www.vu.edu.au/australianhealth-policy-collaboration/publications.
Important Golf News: There is a golf interest development programme being started for kids, titled "Get into Golf". It is aimed at children between the ages of 5 and 12 years old. It commences on 6th February and runs for 8 weeks, with sessions being held at 4:30pm to 5:30pm. Contact Simon at the Pro Shop on 6851 1554 or 0403 871 700.
Forbes Junior Cricket: Junior Cricket starts again this weekend. There is also still the opportunity to sign up for the mid season registration for any child interested in taking part in the Stage 1 or T20 Blast competition. The competition resumes Saturday, 3rd February and runs for 8 weeks. Registration is available for the following groups: T20 Blast; 7 to 8 age group and Stage 1; 9 to 12 age group. T20 cost $99, includes T20 Blast kit. Stage 1 Sportspower T20 Super league cost $40, includes club Shirt. For more information contact Anthony Gordon on 0458 561 156 or Andrew Glasson on 0428 542 972.
Debutants Fundraiser for Ronald Mc- Donald House: Eight young ladies from Forbes High School are making their debut on the 24th March 2018. These ladies have decided to raise funds towards the Ronald McDonald House. A fundraiser event will be held on the 17th February at the Forbes Golf Club Hotel upstairs. It will be a fun night of games and dancing. The theme is sporting, so come dressed up as a football, softball, cricket player etc. You could even dress up as a Disney character, anything you like. Book a table of 10 people with your friends. Tickets are only $25 and bring your own nibbles. Contact Tami Stewart on 0427 552 243 to RSVP.