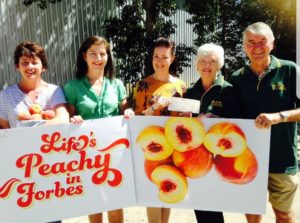 Generosity… Karen Betland from Betlands Orchard and Sally Duff and Jade McGovern from Forbes Shire Council handing over a cheque of $585.35 to Maureen and Murray Field from CanAssist Forbes. This being the proceeds from Forbes Shire Council's promotion at the Christmas markets of Peaches from Forbes. Betlands Orchard donated the peaches and asked that the proceeds be given to CanAssist.
Celebrate Australia Day: Enjoy the many Australia Day activities and welcome the town's inspiring ambassador James Pittar. There will be a free Rotary breakfast at Apex Park from 7am to 9am. The Diggers Family Swim will again be held at the Forbes Pool. There is free pool entry between 11am – 2pm and also a free barbecue lunch. The Party in the Park at Lions Park will be the formal event where the 2018 Australia Day awards will be announced. The Party in the Park begins at 5.30pm. There will be water activities such as the pedal boats on the lake and Forbes dragon boat teams rowing by. Another highlight is the live entertainment by acclaimed central west singer Gabe Middleton as well as artist Cameron Sharp from Forbes. There will be amusement rides, demonstrations by the SES and the Fire Brigade as well as the CWA traditional damper cooking. The event will finish with a fireworks display. Bring a picnic blanket or chairs. There will be food stalls at the event. Parking will be available in Spooner Oval and pet owners are advised fireworks will be around 9pm.
Major Electricity Network Upgrade: Essential Energy crews last week commenced a major upgrade of the electricity network in the Forbes area, along a section of Lachlan Valley Way, from Parkside Way to Jemalong Weir, to ensure a safe, secure and reliable power supply for homes and businesses in that area and the wider Forbes community.
The upgrade will increase the capacity of the electricity network and replace network assets which have reached end of life. The project includes the replacement of 47 power poles, 30 pole cross-arms and 10 kilometres of high voltage powerlines. A series of planned power outages will be required during the project. Affected homes and businesses will receive advanced notification. The project will be completed in stages between January and March.
Four Days Of Double Demerits: As we get ready to celebrate Australia Day, and school holidays are coming to an end for thousands of local students, drivers are being reminded that double demerit points will be in force for four days for this long weekend for all speeding, seatbelt, motorcycle helmet and mobile phone offences. Drivers should be warned that they are at greatest risk of losing their licence during this four day period.