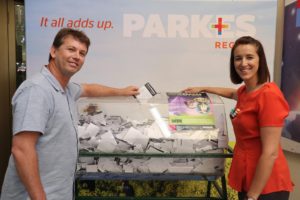 Rosaline Coffee from Forbes was the winner of this year's Parkes Shop + WIN competition! She has won a $5,000 travel package to a destination of her choice through TravelManagers – Louise Gillogly! Rosaline entered the draw at Adele's Salon & Skin Clinic in Parkes.
Healthy Lunch Box website: The task of creating a healthy school lunch is now easier for parents with Cancer Council NSW's newly launched Healthy Lunch Box website. The website includes recipes, ideas and tips. The Healthy Lunch Box shows parents how easy it can be to add more fruit and veg and pack a lunch box that kids will love to eat while encouraging behaviour that has lifelong cancer prevention benefits. The website has been launched as part of Cancer Council NSW's Eat It To Beat It program which runs free sessions and workshops across the region. Visit healthylunchbox.com.au
Ready To Respond: In the event of severe thunderstorm activity such as that which has swept across NSW in recent weeks, Essential Energy works closely with local emergency services to keep communities safe and restore power. Regional Manager Northern, Mark Summers said when storms, lightning, heavy rain and wind gusts damage Essential Energy's network and disrupt power supplies, crews are ready to respond. Essential Energy reminds people to report fallen powerlines or damaged infrastructure and keep at least eight metres away. If you notice fallen trees, deceased animals, smoke, fire, or scorched areas around electrical equipment, call Essential Energy immediately on 13 20 80. For more information on electrical safety during storms, visit essentialenergy.com.au/safety.
More Focus On Bullies: Australian parents have called for firmer action against schoolyard bullies rather than focusing on making vulnerable children more resilient. Just over 50 per cent of parents who responded to a recent UniSA study said their child had been bullied at school and were highly critical of how teachers addressed the problem. The study, by UniSA bullying expert Professor Ken Rigby, tracked parental attitudes towards bullying and the actions they believe are needed. Schools should focus more on changing bullies' behaviour, rather than encouraging victims to become more resilient, many parents suggested. The full report is available online in the latest issue of Educational Review.
Eugowra Pony Club: Eugowra Pony Club is holding its registration and first rally day on Sunday, 4th February starting at 8:30am at the Eugowra Showgrounds. Centrally located with knowledgeable instructors and dedicated parents, Eugowra Pony Club welcomes new and existing members to sign up and get their children involved in learning about horsemanship, riding and making new friends. For more information visit www.eugowraponyclub.com.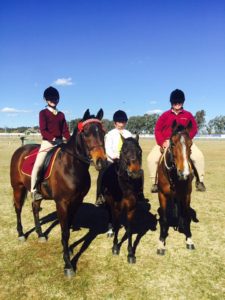 Eugowra Pony Club Members (L-R) Liv Holland, Stacey McMaster and Makaylah McMaster.