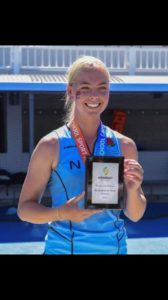 Red Bend Catholic College student, India Draper has been selected as part of the Australian Schoolgirls Hockey Team. India has been playing for the NSW All Schools team in Adelaide over the last week, where she was the leading goal scorer for NSW scoring 14 goals over 9 games. The touring team will be representing School Sports Australia at the international hockey test match series in South Africa from 29th June to 14th July 2018.
Australia Day Nominations Open: Forbes Shire Council is calling for nominations for the Citizen and Young Citizen of the Year to be presented at the 2018 Australia Day celebrations. The awards recognise and reward community members who have achieved excellence or made a significant contribution to our community. Nominations are open for the Forbes Shire Citizen of the Year (26 years and over) and Forbes Shire Young Citizen of the Year (25 years and younger). Nominations close at 5pm on 19th January.
BYO Cup Winners Still To Collect Their Prizes: The Forbes Phoenix ran a competition in September to win a BYO cup. Most of the winners have not yet picked up their cups from The Pantry Café & Catering at 8 Templar Street. The following winners can pick up their prize cups until Thursday, 21st December: Jack McKinley, Karen Wright, Steven Cook, Aileen Hansen, Vanessa Rose, Michael Daaboul, Sahejin Siddiqui, Laura Power, Natalie Walker, Tom Roose, Allan Morrison, Johnson Page, Chris Sindermann, Garry Smith, Jessica Bennett, Tyson, O'Rourke-Halls, Andrew Khotsimeuang, Vinson Peng, Laura Torry, Cathi Nicol, Renee Ballantyne, Luke Day, Melissa Westcott, Robyn Stephens, Steve Lewis, Belinda Suttor, Monica Hubele, Danielle Woods, Dinesh Peethamparam, Stuart Blakeley, Morgan Blysouth, Michael Simpson, Vivianne Vandenberg, Leda Nguyen, Jane Gardam, Damian Jensen, Lauren McClure, Robert Coel, Christian Hill, Amy Ward, Lucy Kliem, Daniel Lawrence, Cassandra Watts, Brian Butler, Brian Wong, Kylie, Walmsley, Stephanie Koufalas, Ros McFarlane, Tom Lockett, Conor Cadden.
A Little Extra Special: Clients and supporters have been waiting and asking for it… Little Extras Lifestyle has gone the extra mile and launched its online store! If you cannot make it to the store, just go online and browse. Everything is there from clothing, shoes and handbags to accessories. If you are still looking for Christmas presents, there are vouchers too. If shopping with all your senses is still your therapy, Little Extras will be open seven days a week until Christmas: Monday to Friday from 9am to 5:30pm; Saturday from 9am to 2pm and Sunday 10am to 1pm.
Dancers Captivate Audience: Kristen's Dance School hosted their Concert Day at Red Bend last Saturday. Countless students graciously danced across the stage leaving their audience in awe of their splendorous talents.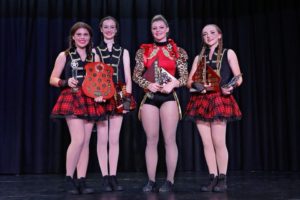 Congratulations… Major award winners of Kristen's Dance Studio is Olivia Beasley – CWA Dancer's Dancer, Lil Hodges – Most Outstanding Overall (donated by Wayne Jones), Abby Hunt – Sportspower Most Improved and 2017 Scholarship winner, Jenna Redfern. (Photo:Anita Redfern)