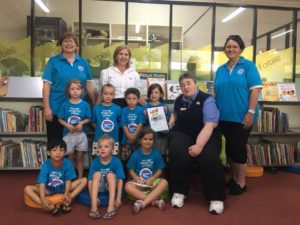 Great Work… The Goodstart Early Learning Preschool children have documented their learning in a book they wrote based on experiences they participated in throughout the year. Several of the Preschool children proudly presented a copy of their finished book "Larry the Rooster" to Bronwyn at the Forbes Library.
Australia Day Nominations Open: Forbes Shire Council is calling for nominations for the Citizen and Young Citizen of the Year to be presented at the 2018 Australia Day celebrations. The awards recognise and reward community members who have achieved excellence or made a significant contribution to our community. Nominations are open for the Forbes Shire Citizen of the Year (26 years and over) and Forbes Shire Young Citizen of the Year (25 years and younger). Nominations close at 5pm on 19th January. Forms can be collected from Council's Administration Office or downloaded from the website.
St John's Anglican Church: The Anglican Parish of Forbes will have a double celebration in St John's Anglican Church on Sunday, 10th December. The Right Reverend Ian Palmer, Anglican Bishop of Bathurst, will commission Reverend Crystal Spindler as Priest-In-Charge of the Anglican Parish of Forbes. Reverend Crystal was previously the Vicar of the Parish of Parkes.
The congregation will also celebrate the 140th anniversary of the completion of the Nave of St John's Anglican Church. Mayor Graeme Miller will attend on behalf of the Forbes Shire Council.
New Policing Model For Central West: NSW Police Commissioner Mick Fuller outlined a new policing model for the Central West. The model provides that the current 34 Local Area Commands in regional NSW will be replaced by 26 Police Districts. Canobolas and Lachlan Local Area Commands will be reformed as the Central West Police District. Police Districts will have a District Superintendent with varying spans of control, while each Police Station will have an Officer-in-Charge model. Parliamentary Secretary for Western NSW Rick Colless said the new structure was designed to put more boots on the ground. "It is important to note that under this restructure no Police Stations will be closed. Police will also have the capability and flexibility needed to respond to crime, major events, and emergency management."
Landcare Wins Award: Central West Lachlan Landcare (CWLL) won the Environmental Partnership of the Year Award at the glittering 35th awards gala of Skillset held in Bathurst recently. CWLL has hosted three very successful Green Army Projects over the past 18 months in partnership with Skillset. CWLL Co-ordinator Marg Applebee said they were thrilled to be recognised with this award.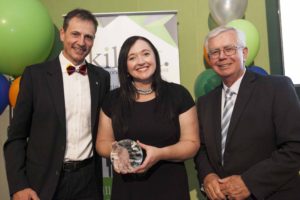 Marg Applebee (middle) received the award for Central West Lachlan Landcare. She is with Graham Stirling and Thomas Staff, both from Skillset.